*I have an updated list for 2015 which you can check out here: The 7 Best Calendars That Work for Families
On Monday I wrote a post that showed you 5 ways that using a family calendar can really improve your life, and I am hoping that I have inspired you to commit to using a family calendar as a way to become more organized. And that you are willing to dedicate yourself to faithfully maintain all of your appointments and family commitments in one place- so you will always know where to go to be prepared for the day, week, and month ahead. But in order to do this, you have to right tool for the job…. so today I am sharing this list of the 6 Best Family Calendars!
Best Family Electronic Calendars:
#1. Cozi
Cozi is one of the most popular free software programs designed with families in mind. It features the ability to keep multiple calendars, allows you to make to-do lists and grocery lists, provides several options for printing the calendar (which is a great feature), and even gives you a place to keep a family journal.
Here's a video to show you more…
You can check it out at: www.cozi.com
#2. PlumLife (update: no longer available)
Plum Life is a free app for your computer that allows you to create your family calendar and share it with multiple users. The cool thing about PlumLife is that it is designed to be a collaboration calendar. For example, you can add an appointment for a date night with your husband, and have it send him the information. It also allows you to schedule the babysitter right within Plumlife, triggering an email to the sitter with a requested arrival time, and then PlumLife flags that event as pending until your sitter responds with confirmation. Cool, right? PlumLife allows you to import existing calendars from Google and iCal, but I believe that this is meant to be a one-time import, and not an on-going sync feature.
#3. Google Calendar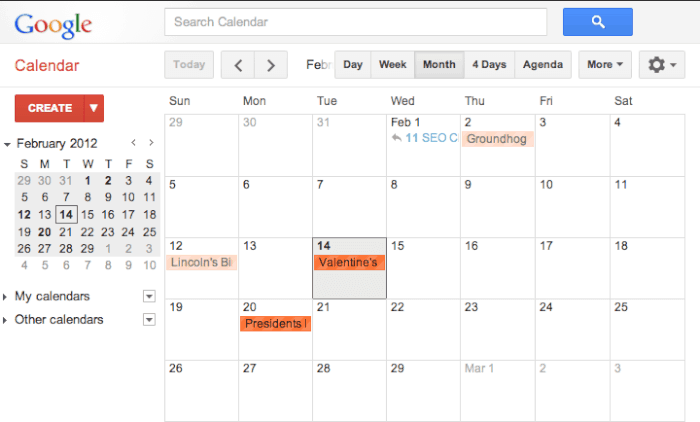 Google calendar is probably one of the most widely used family calendars because most people are quite familiar with Google, it is free with your Google account and already handily displays on the menu bar if you are using Gmail. It also syncs nicely with other calendars that you or your signifiant other might be using at the office such as Microsoft Outlook. While it is not the most feature-laden calendar in terms of being designed with a family in mind, and does not offer collaboration with babysitters and carpool drivers… it has all of the main functionality that you need to make it work well for your family.
Here is a tutorial on how to get started with Google calendar.
You can find it at http://www.google.com/googlecalendar/about.html.
#4. iCal
I have declared here on Momof6 many times that Apple's iCal is my favorite family calendar tool… it has been for several years now, and I still think it is a fantastic system. I think if you are a Mac user it is the best way to go… the software comes preloaded with your operating system, and syncs to other apple devices seamlessly (your iPhone, your iPad, etc). I am able to easily share our family calendar with my husband by syncing it to Google calendar, and iCal comes with several nice printable views that work well for how I like to manage our life.
Best Family Paper Calendars
I know that some of you still prefer the paper-based calendar that you can tuck into your handbag and carry with you throughout the day. Or to hang on a wall for everyone in the home to see. Here are two of the best paper family calendars.
#5. MomAgenda
This systems comes encased in a lovely notebook and features different sections for you to include all of your important information- such as a monthly calendar or a weekly calendar, a to-do list section, a place to keep address and contact information, and even planning pages. The MomAgendas are beautiful, but they are not inexpensive… the 2012 personal folio with a faux-leather cover sells for $75. However if you are a loyal MomAgenda user, but are feeling ready to try to "go techy"… MomAgenda now also offers an iPad App for $4.99.
#6. Family Plan-It Plus Calendar
This is a great wall calendar that features five lines for each date so you can record one person's information on their own line (or you might have to double up if you have lots of kids!). It is a nice-looing calendar without being overly-cutesy as so many family wall calendars are.
You can find this one at Amazon.
If you would like to learn more about using family calendars, please see:
5 Ways That Using a Family Calendar Can Improve Your Life!
Building a Family Calendar: Choosing Paper or Electronic
Building a Family Calendar: Setting it Up and the "Weekly Planning Ritual"
Building a Family Calendar: My Favorite Tool- iCal
I would love to hear from you now… how successful are you in using a family calendar to keep track of all of your family's appointments and commitments in one spot? Do you have a system that you love, or are you still searching for the one that is right for you? Did this list help you to do that? Please leave a comment and tell us!