For the past few years, I have worked hard to bake homemade gingerbread pieces that we then assemble together to create our gingerbread houses. Last year we had an especially challenging time, because the gingerbread I baked was too soft- and the darn pieces wouldn't stay together. My husband ended up creating cardboard houses that we then "glued" the gingerbread pieces to with royal icing. So we invested hours into this project before the first piece of candy decoration was ever attached. (This was NOT EASY!)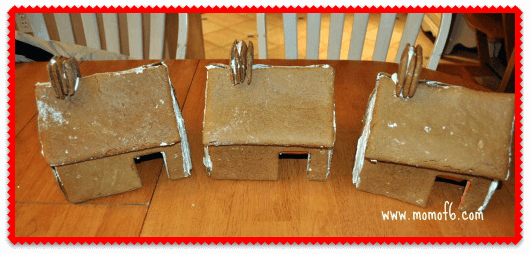 I've since come to the realization that my kids prefer a soft gingerbread cookie over a hard gingerbread house when it comes to snack-time anyway. Which is probably why we rarely ever eat the actual gingerbread house. So why the heck am I spending hours making one from scratch? The real fun of gingerbread houses is in the decoration anyway! And stealing little pieces of candy while you are executing your design, right? So this year, I used a "cheat"… a plastic gingerbread house!
Skeptical? I sure was! Would the kids "buy off" on the idea of creating these "fake houses"? Well at first, No. They totally gave me grief that we were using plastic houses instead of the real-deal. And no matter how many times I pointed out that we never, and I mean NEVER eat the actual gingerbread house, they kept looking at me with those betrayed-cheater eyes. And I kind of felt bad.
For like 2 seconds! Because I was able to assemble 8 of these new plastic houses (with some little kid help) in about 15 minutes! And then I gathered all of our candy (purchased at WalMart on Black Friday on sale! Score!), put the candy in bowls so it could be available all down the length of the table, and put a container of white (store bought!) frosting between every 2 people to share. So I saved roughly 4 hours of prep time here!
Then I called the kids to the table to start decorating. Again at first they doubted whether or not the frosting would really stick (it did!) and whether or not this would be fun at all (it was!) and then they got to work creating the cutest gingerbread houses that we've ever made! I have to tell you- with all of the busy-ness that I've experienced so far this month- this felt like the first time that I've truly relaxed, listened to the holiday music we had playing in the background, and felt the joy, fun, and family of the holiday season.
I found our kits online at Candy Cottage…. and each kit comes with a 4 pack of mini-houses for $19.99…. so each of the kids and even Steve and I were able to decorate our own house! Then after the holidays, I will simply soak the plastic houses in hot water, discard any remaining candy, and put those plastic boxes away until next year when I can use them all over again! How great is that?
To stay up to date on the latest tips and ideas, please consider signing up to have Momof6 delivered daily to your email inbox!