Thank you COOL WHIP for sponsoring this post. Join us on Facebook for inspiration and recipes for everyday treats. What you add makes it. #coolwhipmoms
My Mom made these amazing soft and chewy lemon cookies when I was a kid. I just loved them, and when I became old enough to bake them myself, I was downright shocked at how easy the recipe was! Simple enough to make as an "everyday dessert". Are you ready?
Yep- that's right….. this deliciousness comes from just 3 simple ingredients….
1 boxed Lemon cake mix
2 cups of COOL WHIP Whipped Topping
1 egg
It's as easy as dumping it all into the mixing bowl and stirring it together for a few minutes. You'll notice that the cookie dough is VERY sticky. So you will need to chill it for an hour or two prior to preparing the cookies for the oven!
After the dough is thoroughly chilled, roll small balls of the dough between your palms to form the cookie, then drop into powdered sugar and coat completely before placing them on parchment paper-covered cookie sheets. And yes, at this stage the cookie dough is still pretty sticky. Just dust your palms with the powdered sugar and you'll be good to go!
Bake in a preheated 375 degree oven for 10-12 minutes, until the edges are golden brown.
Hmm…. I wonder if this everyday dessert would work just as well with another kind of cake mix?
We are huge fans of Red Velvet cake in our house…. so I thought it would fun to try this same recipe using a red velvet cake mix…..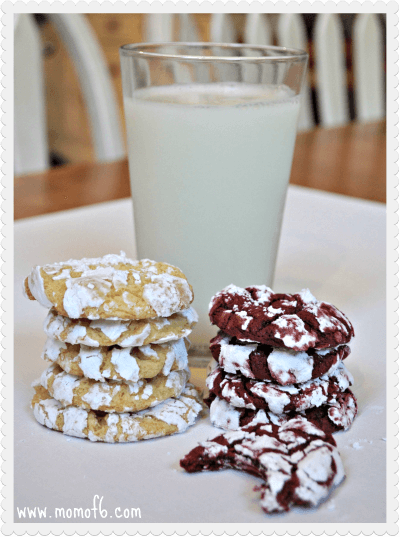 It was hard to say which kind my kids loved more- the lemon cookies or the red velvet ones…. because they devoured them all! So delicious. And so easy!
Do you have a special dessert you'd like to share? Enter COOL WHIP's Fan Dessert of the Month Contest for a chance to win $500! Simply make a COOL WHIP dessert, take a photo, and upload it here. Enter now!
Sponsored posts are purely editorial content that we are pleased to have presented by a participating sponsor. Advertisers do not produce the content. I was compensated for this post as a member of Clever Girls Collective, but the content is all my own.
To stay up to date on the latest tips and ideas, please consider signing up to have Momof6 delivered daily to your email inbox!
*This post was linked up at OrgJunkie's Menu Plan Monday and Skip to My Lou's Made by You Monday!