I've seen rainbow cakes featured several times on blogs over the last few months….  and I finally found the time to make one of my own. And I think the result is pretty impressive!
Here's what you need:
Since the cake will have six layers, owning six of the same sized round cake pans would have been ideal….  but since I didn't, I baked the layers in shifts. I used two boxes of vanilla cake mix and prepared the mixes (one at a time) according to the instructions on the back of the box. I also added 1/3 cup of non-fat vanilla yogurt to the cake batter…. this is the key to make the colors really vibrant in the cake (and you won't need to use a ton of food coloring!) And I want to thank For The Love of Cake for that fantastic tip….  which I plan to try the next time I make my red velvet cake too!
I divided each batch of cake batter into three bowls making sure to fill them as evenly as possible, and then I used by gel food dyes (just a tiny bit) to achieve the colors of the rainbow. And in case you can't remember the colors or their order, my kids taught me to remember the name ROY G. BIV….  for red, orange, yellow, green, blue, and violet. (Why is it that I never learned these important things when I was in elementary school?)
I baked each layer (two at a time) for around 18 minutes…. allowed them to cool for 5 minutes and then removed them from the pans to cool completely. Then I washed and dried the pans, sprayed them with cooking spray again, and then baked the 2nd and eventually the 3rd batches of cake layers.
Once all six layers cooled, I assembled the cake layer by layer, with a generous amount of buttercream frosting in between each color of the rainbow.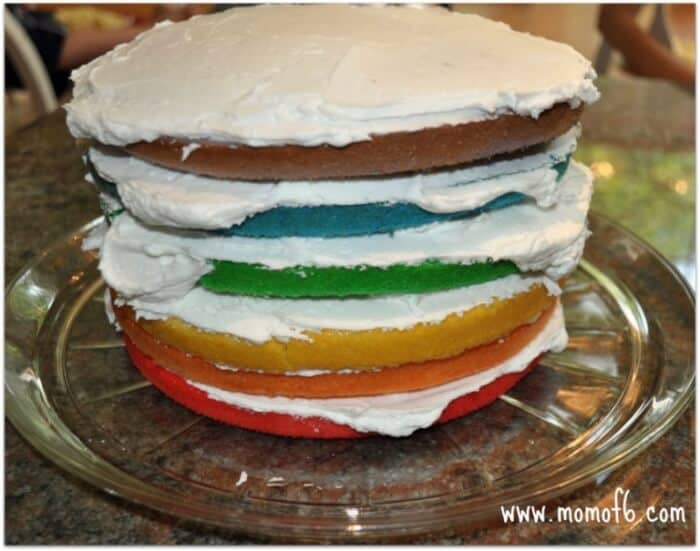 Next I frosted the top and the sides of cake with the remaining buttercream frosting. I could have gussied up the cake a bit with rainbow colored sprinkles or even bright fondant icing polka dots….  but I loved the simplicity of the stark white frosting on the outside of the cake, knowing the rainbow surprise that was hidden within!
The kids LOVED this cake!
Also from our summer camp at home "Cooking With Kids" series: