Renting a house, staying in a condo, or even hotels with mini-kitchens allow you the chance to save money while traveling by preparing your own meals. A pasta bar is a simple meal that can be made from a short grocery list for less than $12 for the entire family!
Easy Pasta Night
This is truly one of the easiest meals to throw together when you're on the road and staying in a condo, rental home or even at a campsite. A quick run to the grocery store to pick up just 5 items, and a 1/2 hour is all you need to get a meal on the table.
Of course feel free to toss in a nice bottle of red wine if that's to your liking! You can also add in a bag of frozen meatballs to add some protein or even a package of ground meat to add to the sauce.
The only cooking tools that you will need is a big pot to boil the pasta, a smaller pot to warm up the sauce, and a colander- all of which should be available in the most basic of kitchen set ups.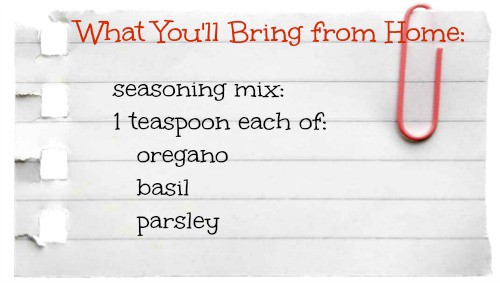 And if you'd like to "doctor up" your sauce just a bit, pack along a small Ziploc bag of herbs that you can stir in while the sauce is cooking. If you have a little extra time, you can allow your sauce to simmer on low for up to an hour.
Easy pasta night is a crowd-pleaser with my family because the kids have options- they can enjoy their pasta plain with just a bit of salt & pepper, with sauce  only, or with sauce and meatballs. Salad and garlic bread round out the meal. Everyone is happy!
For more ideas on road trip cooking, check out these posts:
Please be sure to stop by here on Tuesdays and Fridays to check out our Road Trip Diaries and follow our road trip adventures this summer!