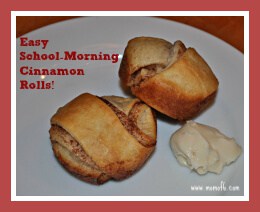 My kids love their grandmother's homemade cinnamon rolls… the kind that you need to make the day before- where the dough rises twice…… so it takes hours. And yes, they are just beyond delicious! But it is not possible to wake up on a special school morning (like on your average Friday for instance!) and just whip a batch of grandma's yummy treats…. you would need to plan ahead. Which is why we normally make them only for holidays and special occasions. So when I came across this recipe from Mique at Thirty Handmade Days for Cheater Cinnamon Twists, I immediately pinned them on my Pinterest Recipes Board and featured them on one of my Sunday Links to Love posts… and I knew it would only be a short matter of time before I gave them a try!
My kids LOVED them! I've actually made these twice in less than a week- and they are begging me to make them again!
The "cheat" involved in this recipe is the use of Pillsbury Crescent Rolls…. and if you can find the packages of seamless dough sheets- grab them, 'cuz they are perfect for this!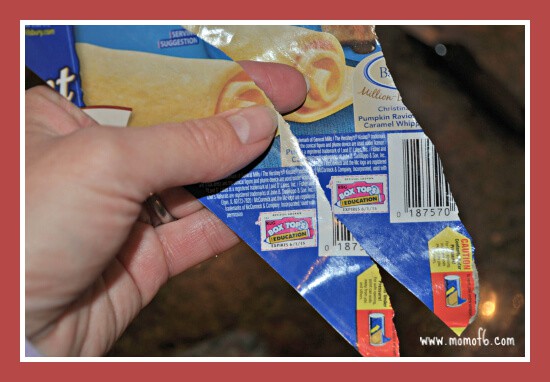 Now don't forget to cut out those box tops… otherwise it's like throwing nickels in the garbage!
Unroll one sheet of dough on the counter and spread 1/4 cup of softened butter on top. Sprinkle liberally with cinnamon and sugar. Add the top layer of dough and press the seams together along the edges of the dough. Then, using your pizza cutter, cut the dough into 12 equal-sized strips.
Take each strip, and form the twist…. first by crossing the strip of dough in front, and then folding the bottoms of the strip up underneath your little roll. Place it in a greased muffin pan. Bake in a pre-heated 375 degrees for 15 minutes.
You'll want to serve these cinnamon rolls with Mique's cream-cheese dipping sauce, and I'll send you on over to her Cinnamon Twists post to see how to make it! Trust me, I think my kids would eat almost ANYTHING dipped in this cream cheese sauce!
So what do you think? would you make these for your kiddos on a school morning?