For awhile now I have been on a search for a delicious homemade tomato soup recipe. Because you see, I am obsessed with the creamy tomato soup at Panera Bread. I mean, when the clock strikes 11:45am each day, I start day-dreaming about that soup. I've been known to drive across town to fulfill this tomato soup craving at least once or twice (this month!). I tried searching for and making some of the copycat recipes that I found online…. but they were ultimately disappointing.
Until I came across this recipe from Bon Appetit for Creamy Tomato Soup. Could this one be "the one?" In my never-ending quest for deliciousness, I pinned it, and decided to test it out for this week's "I Pinned It and I Tried It" challenge!
Pinterest: sharonmomof6: Recipes I Gotta Try
The ingredients were simple…. fresh thyme, butter, onions, garlic, two cans of crushed tomatoes, one small can of tomato paste, and heavy cream.
After melting the butter in my soup pot, I added the sprigs of thyme (tied together with kitchen string), the onions and the garlic and simmered this while stirring until the onions became soft and started to brown slightly. Then I added in the tomato paste and continued to saute until the tomato paste began to caramelize. This step, I believe, is the key to the deep rich flavor in this soup.
Next I added the two cans of crushed tomatoes and 8 cups of water. I set the heat to a low simmer and allowed it to cook, uncovered, for about an hour, until the amount was reduced to about 8 cups of soup. I then removed and discarded the thyme springs, and blended the soup in small batches until smooth. Next I poured in the 1/4 cup of heavy cream, and allowed it to simmer on the stove for another 10 minutes, so the flavors can meld.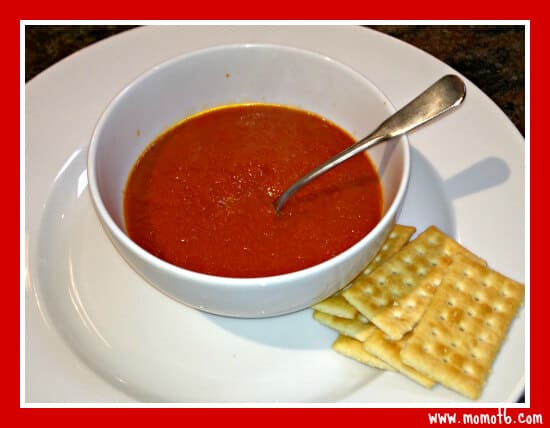 This is heaven in a bowl people! You find the full recipe for Creamy Tomato Soup on Bon Appetit's website. And if you are a fan of Panera's tomato soup…. you have to try to make this one at home. Trust me…. you won't be disappointed!
And to stay up to date on the latest pins and inspiration from Momof6, please follow sharonmomof6 on Pinterest!
linked up to Org Junkie