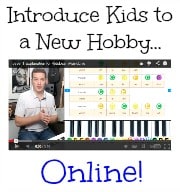 With 6 kids it almost goes about saying that I spend quite a bit of time every day driving them around to sports practices and activities. While I generally limit each of my kids to just one sport, lesson, or activity during any one season, my kids often ask if they can add something into the schedule. But it's hard to balance…. I want them to be curious about new things, and do want them to try music lessons or martial arts or even a pottery class,  but I also don't want them to feel over-scheduled and tired out from all of the running around. I want their focus to be on school work and homework, and having fun as a family.  Still, it can be hard to say "no" when one of my kids is asking to try a potential new hobby. So I've been looking into ways that I can encourage them to try new things while also not adding yet another item to our schedule…. and maybe the answer is to try the activity online! Here's a few that we've tried or looked into:
Learn to Play the Piano
LearnPianoLive a great website that allows you to take piano or keyboard lessons online with an instructor. Jamin (who runs the site)  offers kids a new live lesson every single week along with a hand-out that the kids can print and use for practice. Students can play along while he teaches the lesson, and ask questions because the lesson is live online, not just a video. Kids can then log back in every day to do homework and record themselves playing the song of the week as well as work on daily "Music Challenges", and by practicing and doing the homework they have the opportunity to win prizes during next week's lesson. It's a great motivator! The weekly live class is constructed to teach kids at 6 different levels of experience- so this works for beginners as well as those who have been playing for a while. Lessons cost $24.95/month, but you can take one free lesson to try it before signing up!
Full disclosure: Jamin was kind enough to offer my son Spencer several lessons to try for free. Spencer really enjoyed the classes and hopes to resume piano lessons again over the summer!
Learn to Play the Guitar
My husband purchased a guitar a few years ago because he always wanted to learn how to play, but sadly, the instrument mostly sits in its case in the back of an upstairs closet, collecting dust. But every once in a while someone will take it out of the case…. like last weekend when my oldest son had a friend sleepover…. and this friend really knew how to play guitar. At one point I looked over at Steve and said "Why didn't we get the kids to take guitar lessons?" A quick trip online and I found GuitarLessons.com, a free lesson site that starts all the way from the most basic lessons (such as  how to properly hold the guitar and learning the names of the strings) and continues on to learning to play songs, and eventually on to advanced topics such as guitar theory and ear training. I think I might even have to take a lesson or two myself!
Learn Magic Tricks
Several of my kids have begged for the chance to take a magic class after school because frankly- it's fun to know a few magic tricks! A great site offering free videos on magic tricks is ActivityTV.com. Owned by Xfinity, there's more than 200 videos available that can teach your kids all kinds of different magic tricks! Each video demonstrates the trick and then shows kids how it's actually done!
Learn How to Code
One of my kids is absolutely convinced that he wants to be an app or web developer when he grows up. And he has asked me many times to sign him up for an computer coding class…. but do they even offer those to 10 year olds? So I looked online and found a cool site where where kids can spend some time learning how to code as well as some basics of web design. Scratch is a free site designed by MIT labs that gives kids the chance to learn a programming language and then use that knowledge to build stories, animations and games and share them in a supportive, respectful online community.
Learn Yoga
For years I have been doing yoga online with YogaGlo.com, and while my kids will sometimes join in with me, I wanted to find an online yoga class that was more suited to kids,and did a thorough job of explaining the poses to them. YogaVibes offers 5 online yoga classes for kids, which you can try for free for 15 days (after that a membership will run $20/month). Now keep in mind that is still a good idea for you to do yoga alongside of your child- just to make sure that they're doing it properly, but an online yoga class can be a great way to introduce your kids to the concept of yoga.
Write an E-Book
My girls will sit down and write stories and draw pictures to go along with their stories for hours… but they would love the opportunity to actually create something in a more professional e-book format. Book Creator is an app for the iPad that can do just that. They can write their story, draw pictures, grab images from iPhoto or even insert a video into their story. They can print their books, or save them and view them (and even share them) as an iBook. (The app is $4.99).
Have you used online learning to teach your kids a new skill or hobby?