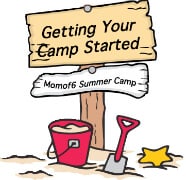 We made the decision several years ago that we would spend our summers together as a family, and not send our kids to day camps. Mainly it was because we didn't want to have to adhere to a set schedule of having to get out of the house by a certain time each morning, after a busy school year of early morning band and orchestra practices in addition to getting to the bus stop on time. And I feel that getting to spend the summers with my kids is a built-in bonus of living my life as a stay at home Mom…. one that I want to make sure that I take advantage of. And finally, it is certainly a lot more frugal to conduct a summer camp at home than to send all 6 kids to day camp…. even the town camp gets expensive when you are sending such a large crew!
Now I know in some parts of the country, school is out or very nearly out for the summer…. but here in the Northeast, kids are in school until the end of June (but don't return to school until after Labor Day!)… so I still have some time to get my plans in order. Here's how I plan…
Start thinking about some goals and intentions for the summer
What is it that I want to do with the kids over the summer? And when we get to the end of August- how will I want to look back on these two months and see it as time well-spent… strengthening our family bonds, creating some fun memories, teaching the kids a new thing or two, and more than anything- relaxing and slowing down the pace of our busy lives.
I am also keeping in mind some bigger principles that I have about summer- how we will keep up with academics so as to avoid the "summer slide"? How will we handle chores and responsibilities? Are we hoping to achieve anything this summer- such as learning a new skill (I still have one last child whom I need to teach to tie his shoes!) or maybe try a new hobby?
Start gathering ideas
What kinds of places should we visit this year? And what old favorites do we want to return to? Have you been tucking recipes or craft ideas into Evernote or pinning them in Pinterest all year long? Well then perhaps summertime is the perfect opportunity to enjoy cooking and crafting with your kids.
Now that the kids are getting older, I am starting to dream a little bigger. And for a while I toyed with the idea of making this the summer that we take our "big dream trip"- the one where we pack the kids into the Mommy bus and drive all across the country for 4 weeks, hitting all of the National Parks and monuments that I want them to see- like the Rocky Mountains, the Grand Canyon, Yosemite, the giant California Redwoods, and so on. But after a great deal of thought and consideration, we decided to put this idea back "on the shelf" for a few more years….. and wait until the kids are a bit older.
So while we are not jumping on the cross-country idea- it did spark some heavy thinking about what other parks and historic sites we want to take the kids to that are somewhat closer to home (as in a one day drive instead of a one-week drive!). So I've got the guidebooks pulled out and I've been pouring over websites working on my plans! Perhaps a trip to Mammoth Caves in KY (the world's largest cave system) or Williamsburg VA or even historic Boston MA will be on this summer's hit-list!
Making a Plan
Over the next two weeks I will be sharing with you how I am putting tougher our family's summer camp at home plans. And throughout the summer months I will share with you ideas for crafts, recipes, family field trips, and fun activities in the hopes to inspire you to enjoy time with your kids this summer (even if you are not running your own "summer camp at home"). I will still include posts each week on organizing your life and your family, share with you the birthday parties that I am planning for this summer, and write about other parenting dilemmas that come our way. But summer is a time to slow down, relax, and enjoy life a bit more. So I can say for certainty, there will be no large-scale home de-cluttering projects going on here until the fall (and I already have a list of places to tackle when the time comes!)
Now I would love to hear from you!
How are you planning on slowing down and enjoying the summer with your kids? And what can I share here at Momof6 to inspire you to do just that this summer? Please leave a comment today with your thoughts!
Be sure not to miss a single summer tip or idea! Please consider signing up to have Momof6 delivered daily to your email inbox!