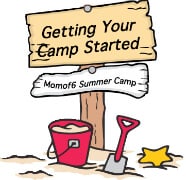 I have spent the last two weeks gathering together my ideas and sorting through them to decide which ones will "make the cut" for our summer camp at home program. Throughout the year when I come across a great craft idea or a recipe that I think would be fun to make with the kids, I will cut out the article if it is in a magazine, or copy it into Evernote if I find it online. So when May rolls around, I usually have a fairly good stack of ideas to start to work with…. but I still go looking for more.
Great Resources for Inspiration:
Field Trips and Local Attractions:
Local magazines- I made a trip down to our local CVS and looked for magazines that featured our local area as well as a few from nearby towns. In these magazines I found all kinds of ideas for places to visit that I didn't even know existed. Everything from some local farms that welcome younger visitors to the World's Largest Kaleidoscope that is an easy drive from our house.
Guidebooks- If a tourist was coming to visit your area, how would they plan their trip? Often with the help of some sort of guidebook, right?  So why not buy the same guidebooks for yourself?  A series that I love is the FamilyFun Vacation Guide- and they have several books each that focus on a different regional area of the US.  (Although at this point they might be a bit outdated as they were last published in 2003.)
Another series of guidebooks that I love is the Insider's Guide "Fun with the Family series", and they publish a different book for each state in the US.  These books are very detailed and provide a list of attractions that would interest families in even the smallest of towns.
Ask other Moms-  by far one of the best sources of information should be other Moms from your community.  Be sure to let people know that you are looking for ideas for fun things to do with your kids over the summer- and be prepared to be inspired.
Crafts and Recipes
Magazines-  my two favorite magazines to gather great kids craft and cooking ideas is Disney's FamilyFun and Parents.  I pour over each issue (I've been a subscriber to each for years!) and tear out tons of ideas for later reference.
Blogs- and of course I find the most creative ideas from the dozens and dozens of crafting, cooking, and parenting blogs that I follow.  And I will be sharing many of those ideas with you here over the next few weeks!
My kids have 10 weeks of summer vacation, and for each week I try to plan 3 crafts, 2 things to cook, 3 activities or theme days of things we can do at home, and 3 field trips where we actually get out of the house (which is usually 1 "big trip" each week and 2 smaller ones).  So after I have gathered my ideas, I try to make sure that I have a list of 30 crafts, 20 recipes, 30 home activities, and 30 field trips…  and if I am a bit short, that's fine- I know new ideas will come up as the summer progresses, or we can repeat some of the things that we enjoyed.
Next I print out a few blank calendar pages, and I start plugging ideas onto my calendar, making sure that I have assigned at least one or sometimes two items to each day.  I think of these assigned activities as my "anchors to my day".  While I know that one craft activity isn't going to take the entire day to complete- it is nice having something planned to center the rest of our day around.
Now that our calendar is starting to take shape, tomorrow we will focus on setting some family goals for the summer!