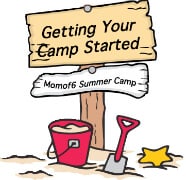 Okay- so we're just about ready to start our summer camp at home!  Woo Hoo!  But I have a few last tips to share with you first:
Assemble Supplies for Arts & Crafts
Yes, we know that I am all about "planning ahead"…..  but I promise you that it is so much easier to shop at several craft stores right now while the kids are still in school, than it will be when you have to haul all of them into the store with you, and beg them to stop touching the displays 1000 times.  So your best approach is to pull together your ideas for arts & crafts now, and write up a list of all of the supplies that you'll need to get you through the summer.  Don't forget to add summer staples like glue, glitter, fabric paint, melty beads, and sidewalk chalk!
This would also be a great time to dig out all of your craft kits….. you know….  the ones your kids received for birthday presents from well-meaning family and friends, but that you've never had a chance to do…..  I like to put them as well as any other craft items that kids can do on their own into a big "boredom buster box".  On a rainy day (or even the 5th day of 100+ degrees in a row), you can pull out the box and have a bunch of fresh ideas to entertain the kids.
Menu Plan Your Lunches
We'e going for easy here…  it is so much better to have an overall weekday lunch plan that you can tweak and change around when needed, than to be staring into the fridge at noon every day wondering what the heck you are going to feed everyone!  Here's mine…
Mondays:  sandwiches or ham rollups
Tuesdays:  chicken nuggets
Wednesdays:  quesadillas
Thursdays:  macaroni and cheese
Fridays:  hot dogs or grilled cheese
Create a Gratitude Wall
I think a great way to celebrate the fantastic summer that you are having with your family is to take and print pictures and save mementos each week from your activities, and create a wall collage.  We create ours on the refrigerator…
It helps you to be thankful that you have worked so hard to create this great summer for you and your family to enjoy together, and it also actually helps the kids to remember that the summer hasn't been "boring"!  They especially love to show Daddy the pictures from the outings that we went on without him, and share with him all of the fun that we had!