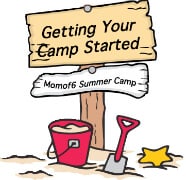 I think one of the biggest issues that Moms have in the summer when they are trying to spend more time playing with their kids, is managing everything else that needs to get done- such as cooking, cleaning, shopping, and exercising.  Not to mention finding the time to do the things that Moms want to do…  like gardening, reading, and kayaking (and my personal summertime fav-enjoying a cool glass of chardonnay while watching the hummingbirds sip nectar from their feeder).
So how are you going to "do it all"?  Well, mostly- you're not.  Something's gotta give.  Here are my ideas on how to give yourself the time you need and deserve this summer.
Get your kids more involved with chores
I'll admit that I do not do a very good job with following up on household chore assignments with my kids during the school year….  and at the same time I equally stink at paying out allowances- so I suppose it all evens out.  But when we come rolling into the house at 6pm from soccer practice, and then eat dinner, do homework, and take showers- it's already time for bed.  And our weekends are just as jam-packed.  So while my kids are capable of taking on more around the house- I haven't followed through on the expectation or the reward.  But now that summer is upon us, I plan to assign new chores to each of them and get myself set up to actually pay out the allowance each Sunday.  Chore candidates are:  dusting their bedrooms, washing the windows, putting away their laundry, emptying the garbage cans, sorting and starting laundry.  Anyone have any more ideas to share?
Shift around your household schedule
Personally during the school year, I am used to trying to get the laundry done and the house cleaned while the kids are in school all day, and I try to limit what I need to accomplish on the weekends.  But in the summer, that schedule gets turned on its head- and instead I use my weekend mornings to do the grocery shopping, the laundry, and the house cleaning.  Steve is around and he can take care of feeding the kids breakfast and herding them all outside to play- and hopefully even getting them to help out a little bit with some yardwork!  And I can enjoy my time with the kids during the week so much more when I am not trying to multi-task in the afternoons.
Figure out when you are going to carve out time for yourself
I know that I need some time to blog…  so while sleeping in late all summer long sounds like a decadent idea- it's not going to happen if I want to continue to write (which I do). So while the kids are snoozing, I am going to tip toe downstairs at 6am, make myself a delicious cup of tea, and write for an hour or so until I sneak back upstairs and jump in the shower.
And reading is an important activity for me too, so I plan on taking an hour right before bed to enjoy a good book.  It's another thing that is so easy for me to let slide by…..  so I am going to focus on making the time.
But best of all- I have a connection to a brand new kayaking buddy!  She and I had our first "paddling date" this week, and it was fantastic- the two of us paddling and chatting on a beautifully quiet and peaceful lake- watching the swan swim past and the blue heron take flight overhead.  I plan to make it a priority to kayak at least once a week all summer long!  With my friend Lisa when she can manage it, or somewhere on my own when she can't.  This is my summertime gift to myself.
Decide on what is going to sit on that "to do" list until school starts again
Yes, I have a detailed and long-running to do list…. so this week I took some time to figure out which projects need to get placed on the "back to school" side of the list.  And now I plan to completely forget about them until September.  (ahhh…..)
How are you going to make time for yourself this summer?