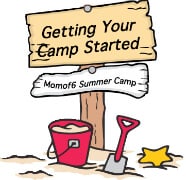 As part of our summer camp at home, we like to set some fun summer goals for and with the kids. Summer goals give your kids something to reach for over the summer….  and can create a real sense of accomplishment- for them and for you!  Here are some summer goals for kids that we have set over the past four summers, as well as some that make the list for one or more of our kiddos this year:
Self-Help / Life Skills Goals:
learn to tie shoes with laces
learn basic cooking skills- measuring ingredients, reading a recipe, doubling a recipe
learn basic housecleaning skills- dusting, de-cluttering, cleaning windows
Indoor Fun:
learn how to use email or Skype to talk to Grandma
learn to draw cartoons, or people, or animals (links and books)
read an entire Harry Potter book
Outdoor Goals:
learn to ride a bike without training wheels
older kids can have fitness goals- such as achieving a number of pull ups, push ups, climbing a rope to a tall tree branch, soccer ball juggles, running a mile three times a week
learn how to ride a skateboard or a scooter
What will your family's goals be this summer?  Do you plan to set any personal goals for yourself?