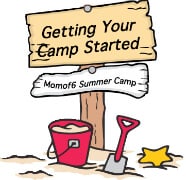 Many people are under the misguided idea that garages are meant as storage homes for your cars…..  ha ha ha!  While it's true that in the winter we manage to clear out enough space to squeeze in my hubby's SUV, once summer rolls around, that vehicle makes its overnight home in the driveway so that our garage can be set up for maximum summer fun! Here's how to go about setting up the garage for summer camp at home!
Cleaning Out and Organizing
Even with the sun shining and free time beckoning, I was able to wrangle my children into helping me with garage clean out for an hour on Sunday afternoon this past weekend.  They helped me cart all of the toys, bikes, scooters, and sports equipment out of the garage and into the grass, where it was sorted out by category- football / soccer / basketball / baseball / lacrosse / water play / beach supplies / air rockets / roller skates / bug collecting supplies / chalk and bubbles /  and misc.  We weeded out the items that were broken or no longer used, and then we washed out all of the big plastic bins that we store stuff in.  Getting the kids to help out with the bin washing was the easy part…  a hot day, a cold garden hose….  you get the idea!  They were all soaked when they were finished, but had a great time- and I had a clean garage, that's (almost) all set up for our summer camp fun!
Bike Parking!
With 8 bikes, we had to create a special "parking area" to accommodate them.
Last summer we decided to invest in 4 sets of bike stands that each park 2 bikes, after one too many times of kids knocking down 4 other bikes when trying to pull their own out of the garage.  (We found these at amazon.)
Balls, Toys and Sports Equipment
We use a combination of rubbermaid plastic storage bins (without the lids) and giant pop-up canvas bags to hold all of the balls, toys, and sports equipment.
The bins are set up in 2 rows down the center of the garage.  You can kind of see in the back of this picture, that I have an old bookshelf against the wall that I use as a gardening supply center.  On this bookshelf I have a bin of kid-sized gardening gloves and a bucket of gardening shovels so the kids can help me out in the garden using their own kid-sized equipment.
Scooter Parking Too!
One of the things that is still challenging to store neatly are the scooters.  Even when we lean them against the wall, they fall over…  and when one kid tries to grab just his scooter, they all fall everywhere. I did see some scooter racks online, but they ran around $25 each- and there is no way I am spending $150 on scooter racks. So we'll just deal with it….
We use an old desk to hold bubbles, sidewalk chalk, and other small items.  On the shelves above the desk, we store games sets- such as croquet and badminton.  And in the big plastic bin I store all of the kids bike helmets.
I am not quite done yet…..I still need to carry out two knock-down tables and 6 folding chairs from the basement and stack them against a wall in the garage.  We love to work on our craft projects outdoors under a tree and having the tables and chairs in the garage makes setting up craft time quick and easy.  I also need to re-stock our supply of bubbles and wands!
When setting up a garage for summer fun, it is important to remove any harmful chemicals such as gasoline and find another place to store them safely away from the kids (translation: it might be time to make that trip over to Home Depot to buy a storage shed!).  You want the kids to be able to go into the garage and get to their toys and equipment even without you by their side….  so you need to know that all of the dangerous stuff has been stored elsewhere!