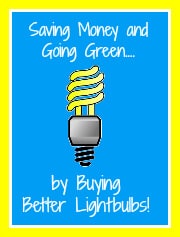 As part of my partnership with GE, I received coupons for my GE lightbulbs. But as always, all opinions expressed here about my experience with GE Lighting are my own.
My family and I have been on a mission to convert our home lighting over to the more energy-efficient compact fluorescent bulbs. And I have to admit- since we jumped on this band-wagon rather early in the game, the initial products that we used a few years back… I was never completely in love with. For instance, we replaced three recessed bulbs in our foyer right over our front door which are set up with a timer to go on early in the evening, turn off when we are asleep, and then to turn on again early in the morning. But these bulbs came with a built-in flicker…. a feature that was not at all desirable! Our front entryway had all the makings of a bad pre-teen disco! Thankfully, CFL technology has improved quite a bit over the years- and now offer such features as dimmable bulbs, three-way bulbs, and bulbs for just about every type of light fixture.
So since I love to "be green" and love saving money even more… I decided to embark upon a bit of a home project with my kids. I wanted to see if changing out our light bulbs in one specific room would really save us money over time. And I wanted to factor in all of the costs…. because the initial purchase price on CFL light bulbs are certainly quite a bit more expensive than a traditional bulb… so when I take into account both purchase cost as well as usage cost- do we come out ahead? And does it really lead to improving the planet?
To conduct my "investigation", I used the GE Lighting Energy Savings Calculator and worked with my 4th grade son to come up with a way to calculate our savings (I did the Excel part while he "worked out" the math!)
We selected my home office as our room to "experiment with"- a space that uses 4 recessed lights in the ceiling plus a desk lamp. In just this one room, changing out 5 light bulbs from traditional bulbs to CFLs…. I can save nearly $30/ year in electricity costs. And over the nine-year life span of the light bulb, my total savings in saved replacement bulb costs and energy cost is nearly $300! And this is just one room. No, this isn't going to be the savings that I need to send my 6 kids to college…. but I would rather have it in my pocket that in the coffers of my electric company!
Convinced that this is a good financial as well as environmental decision, I ventured out to Walmart to purchase my CFL bulbs from GE. (If you'd like to see the details of that shopping trip- check out my Google + album!) Now while GE does offer three different types of lighting options- energy efficient soft white bulbs, CFL, and LEDs- I decided I wanted to convert my office to all CFL bulbs.
I am not sure if you know this, but countries throughout the world, including the US are actually forcing light bulb manufacturers to make changes to their products to make them more energy-efficient, and since incandescent bulbs (which are the plain old kind) really can't be made more efficient, they are basically being phased out. In January of 2012, 100-watt bulbs were phased out, and starting in January 2013, 75-watt bulbs will phased out, and finally in January 2014 60 and 40-watt bulbs will be phased out. So you all will soon be joining me down the path of more energy-efficient lighting whether you are ready of not! 'Cuz the old bulbs will just no longer be for sale! (Source: Computerworld)
I've now installed all of my new lighting…. and I will be using it over the next few months to see how I feel about it. Is the light bright enough? Do I like the color? And over time, will I even really notice the difference? I'll report back here after the holidays and let you know. Plus I may even be targeting a few more rooms and light fixtures to change-over to CFLs.
(I am a member of the Collective Bias®  Social Fabric® Community.  This shop has been compensated as part of a social shopper insights study forCollective Bias™ rel="nofollow" and GE Lighting #CBias #SocialFabric")
To stay up to date on the latest tips and ideas, please consider signing up to have Momof6 delivered daily to your email inbox!