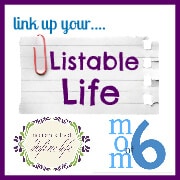 When it comes to beauty products for myself- I lean more towards the "quick and easy" variety than towards the super-fancy high-priced products. It wasn't always this way… when I was younger, working, and in department stores daily for my career… I was a devotee of cosmetics in small shiny packages. But these days…. I am more of a CVS-on-sale shopper…. and I have rounded up for you below- my 5 favorite beauty products!
1. EOS Lip Balm
My husband has been known to tell me that I have a lip balm addiction. I think I am just a girl who likes to have moist lips! And my all-time-favorite lip balm is the kind that comes in this cute round case from EOS. I keep one in my makeup drawer, one in my purse, one in my car, and one in my kitchen. Yeah…. maybe I do have a problem.
2. Aveeno Lotion
I love this thick lotion that leaves my body moisturized all day. But I use it in a surprising way…. I use it on my face. Most people would probably find it to be too thick for their face, but my skin can be on the dry side, and I just love how it keeps the flakes off of my nose!
3. Pantene Hair Products
I remember when the girl who used to cut my kids hair recommended this shampoo and conditioner, telling me that she believes that it keeps kids hair in the best condition. I have been using it ever since- for their hair and for mine! It leaves our hair very soft and shiny!
4. Oil of Olay Face Scrubber
I love my face scrubber… (when I actually remember to use it!)…. my face feels so smooth and so clean afterwards…. (and all primed for a dollop of my Aveeno lotion!)
5. Gel Gloves and Aquaphor
I wash my hands a ga-jillion times a day…. and in the winter, they become so dry that they can sometimes even crack and bleed. The best thing I have found to give my dry hands relief is to slather then in Aquaphor and then to wear a pair of gel gloves. I think I purchased mine at Bath and Body Works a few years ago…. and I love them!
Each week Nicole from Moments that Define Life and I present our Listable Life Link -Up! Link up to today's topics which are: 5 Best Beauty Tips OR 5 Quotes that Inspire You (or make you laugh) OR Link up a list post of your own choosing! Link up here or at Nicole's blog and have your post displayed in both places! We'd love for you to join us! Next week's topics are:
5 Fall Goals for Blogging (in honor of those returning from Blogher) OR 5 All Time Favorite Photos of Me and My Hubby (or significant other) OR link up a list post of your choice!
So please link up if you wrote a blog post… or please take a moment to leave a comment and share your favorite beauty product!
To stay up to date on the latest tips and ideas, please consider signing up to have Momof6 delivered daily to your email inbox!