If you're someone like me who likes to follow a lot of blogs, it can be a more than a little time-consuming and unwieldy to keep up what all of your favorite bloggers are up to! Subscribing to each one by e-mail and reading them each individually isn't very efficient- not to mention it can absolutely bury your inbox! So in the past I've used Google Reader as a way to follow more than 150 bloggers that fall into many different categories- food blogs, craft blogs, travel blogs, organizing blogs, news blogs, political blogs, and so forth.
But in case you haven't heard….Google Reader is on its way out the door now, with Google announcing that as of July 1 Google Reader will be no more.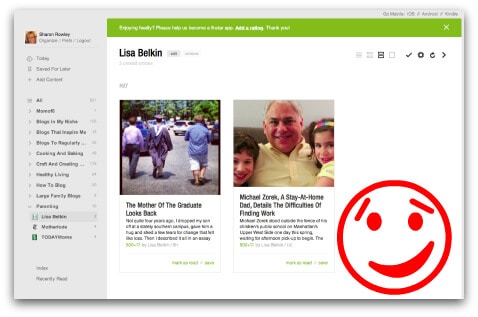 So it was time to find a new way to keep up with all of the blogs that I love, and while doing a bit of research I learned about Feedly.com. And I can tell you that after only using it for about a week now- I love Feedly more than I ever loved Google Reader!
Feedly offers you several options to quickly scan your unread posts, but my favorite has to be this awesome "magazine format" that allows you to see visually the blog articles that you have yet to read. You can see all of your unread posts for all blogs that you follow, or you can select unread posts for a specific category of blogs (such as food blogs) or you can select one particular blog and just review the posts that you haven't read yet from that blogger.
Let's say that you're intrigued by one of the posts- you can click on it to select it which will open another window that shows you the post's feed. (Note: some bloggers only show partial posts in their feeds, while others- like me-  include the entire post). From here if you want to share the post by tweeting it, giving it a Google +1, or sharing it on your personal facebook page, you can do all of that right from within this window.
But let's say that you want to pin the post to Pinterest or even leave a comment on the post…. simply select "preview" in the upper right hand corner, and it will open up the preview window where you can see the whole post as it appears on the blog, and you can enter your comment. And Feedly is really awesome because every single image in the preview window has a little "P" on it so you can pin any image right from this preview window. When you are done simply click close on the preview window and click the "X" on the feed window- and you'll be back to your magazine style format.
How I Use Feedly
Generally I like to review my favorite blogs by category, so if I want to take a quick look at all of the recipes that my favorite cooking bloggers have published this week, I can do that easily in the magazine format. And once I scroll all the way through all of the articles that have been published recently and gone to the bottom of the list I can click the checkbox to show "mark as read", and they will no longer appear in my feedly window.
I also like using the save feature on the bottom of each post when I am viewing it with the magazine format. I can scan a list of posts, click save on the ones I want to read in detail, and when I have time I can select "saved for later" and see just all of the posts that I saved. This is awesome for me to use when saving things that I want to share with Momof6 readers later- in my weekly "Links to Love" round up.
You can check out more tips on how to use Feedly here from their own blog. So if you like to read lots of blogs feedly might be a perfect solution for you…. check it out!