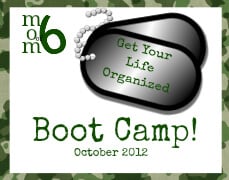 This has been a great Get Your Life Organized Boot Camp week dedicated to creating routines for yourself and for your family to gain some control over a busy life! On Monday I shared a video where I gave some ideas for small routines such as walking in the door and putting your keys and handbag in a specific place each day, and ideas for larger routines such as an evening routine to help you set yourself up for success the next day. On Wednesday I shared bonus ideas for routines, such as a morning routine to get the kids out the door, an after-school routine to manage school papers and homework, and an evening routine for the kids to get them settled in for a good night's sleep.
On Wednesday I also invited our Boot Camp bloggers to link up and share their posts on routines that work for them. And once again, they've come through with some great tips on how they make routines work in their own lives.
I love what Erin from Home-Everyday says about routines not being the same thing as schedules- that while exact times may shift a bit from day to day, the idea is that the kids follow the same general process each day- even when traveling or on weekends. And Erin points out that there will be days when kids don't want to follow the routine- and those are the days when she gives them a bit of "power" to make some of the decisions, such as what kind of fruit they would like to have with breakfast, or which story to read at bedtime.
Alexa from No Holding Back talks about how putting into place a cleaning routine has transformed her day- opening up time for her to do some of the things that she wants to do… like cooking dinners from scratch, and creating a beautiful fall wreath (although Alexa notes that she hasn't dedicated any of that newly found time to exercise… yet! I hear you Alexa!)
And Jess from getSNAZZY shared these fantastic printables that she has made to help her kids follow morning, afternoon, and evening routines. And a great tag that you can attach to a preschooler's backpack to make sure that you leave the house with everything your preschooler needs for his or her school day. Thanks Jess- these are awesome!
If you have been taking the Get Your Life Organized Boot Camp and are still working on your routines- you can still link up! The linky will stay open until next Tuesday!
And we've still got two more weeks of this Boot Camp ahead of us… next week we'll be working on calendars and to-do lists and showing you how to make them work for your busy life!
To stay up to date on the latest tips and ideas, please consider signing up to have Momof6 delivered daily to your email inbox!