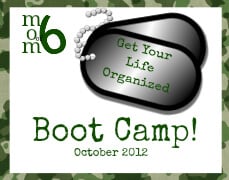 Or… if you can't be the master of your to-do list, you can at least get it all organized and in one place! To-do lists are both the best thing ever…. and the worst thing ever. They keep us organized and on top of all of the millions of things that we need to accomplish, but at the same time, they can make us feel as if we have so much work ahead of us- that we'll never get it all done. And let's be honest- WE WILL NEVER WILL GET IT ALL DONE! That's right- most of us will leave this earth someday with stuff still on our to-do lists. So can we all join hands and accept this inevitability now…. and then learn to "let our to-do lists GO, just a bit?"
Or can someone at least teach me how to do let it go?
So while I work on my own issues with wanting to tackle my to-do list…. let's discuss the characteristics that make for a good to-do list….
1. To Do Lists Allow You to "Write It Down and Forget About It"
That is, at least until it needs to be done! But honestly, since most of us left a good portion of our brain cells behind when we entered this stage of life called "Mommyhood", the idea of writing things down has risen to extreme importance. We need a system that allows us to get it all down somewhere- on paper, in an app, (but ideally on something better than the back of a napkin).
2. To-Do Lists Should Provide a List of Priorities
When you are staring down a list of 100+ things you'd like to accomplish, there should be an easy way to zero-in on what you need to work on today. A good to-do list should allow you to assign priorities to items. And then to easily re-prioritize things when you get that call from the school sating you need to come and pick up your child because he has a fever.
3. To Do Lists Should Allow You to Compile it ALL Into One Place
Keeping multiple lists in several notebooks, or on post-it notes stuck to the walls and on your computer leaves you feeling scattered. I recommend making a master to-do list… one that covers everything you someday hope to do. I suggest that you keep your list categorized by topic- work-related, to dos for around the home, to dos for your blog, etc.
4. Assigning 3 items from your master list to your daily or weekly schedule- but keep it realistic!
Pick one to three things each day or even each week that you can realistically accomplish. And assess how long it will take you to get it done. Don't assign "Clean out the basement", "Put 2010 photos into a scrapbook" and "Dust the ceilings throughout the house" onto this week's list simply because it consisted of just three things. It is the surest way to get none of this done, since you've set yourself up for failure right from the get-go.
5. When assigning items to your weekly to-do list, break them down into manageable bites!
Yes, losing 10 lbs has been on my to-do list for a long time now. But to put that on a weekly to do list only sets me up for failure. Instead I can break it down into manageable steps- last week was "start my plan to drastically reduce carbs", this week it is "add exercise into my daily routine", etc. Over time these bite-sized steps should lead me to achieving my larger goal.
So how do I manage MY to-do lists?
I have been using a Google doc with multiple tabs to manage my to-dos. I like the idea of having everything in one place, that I can access from anywhere, and where my lists are backed up and can't easily be accidentally deleted. I print out my to-do lists from Google and keep them in a notebook that I carry with me to whatever room I am working in at my house. However, what I don't love about using a Google doc is that I miss the satisfaction of checking things off, and I don't like that it isn't integrated with my calendar so if I want to assign an item to an actual due date, I have manually add it to my calendar.
I have been taking my printed weekly calendar (in list view from iCal) and then writing in each day's to-dos on the right side of the page. I am careful to not overload any one day. But I am not thrilled with the efficiency of this system.
So I am thinking of switching from Google docs to use Apple's Reminder lists that are built into the iCal system, and syncs with "the Cloud" so that I can access it via my iPad and iPhone. What I like about using Apple's "reminders" is that when I print my calendar, any reminders that I have assigned to that date can print as well. That's a nice time-saver right there. But what I am unsure of, is whether or not going back to my computer to "check off' items and add new items to my list will work for me or not.
As a reminder….this week's homework!
This week I would like to for you to take a good hard look at the calendar system that you are using to run your life. Does it still work for you? Does it give you the ability to access it wherever and whenever you need it? Is it easy to use- doing some of the work for you? If not, maybe this is the week for you to take some time and re-examine your calendar system. In case you missed it, here is Monday's post on Getting the Most Out of Your Calendar System.
Please leave a comment here today sharing what kind of to-do list you are using – a paper list, an e-list, etc…. and tell us how happy you are with it! And I will see you here on Friday to link-up with how you are doing this week with our Get Your Life Organized Boot Camp!