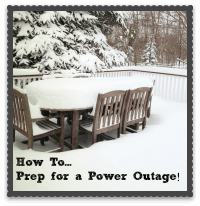 A week ago at this time, my kids had the day off from school in anticipation of the latest "historic storm" that was headed our way. The forecast was calling for snow that would be measured in feet, not inches, and for winds that would top 50+ mph. We were told to stay off the roads, batten down the hatches, and be prepared for a possible extended power outage. Luckily for us, Storm "Nemo" didn't turn out to be a big deal for our area- we "only" received about 18″ inches of snow and our power outage lasted just 2 hours, taking place in the middle of the night. But after 3 power outages in the last 2 years that have lasted more than a week each… we have become "experts by necessity" in the field of storm prep!
Generator?
Now most of my friends and neighbors would tell you that their storm prep is really a one-step process….
#1. Buy a generator!
And we laugh that the entire "Do you have a generator?" discussion that surrounds every storm forecast has replaced the former "Do you vaccinate your kids?" debate- with people giving me looks of horror when I admit that indeed we do not. It's as if I am telling them that my kids aren't worth the effort or expense! But in reality, a generator is a fairly expensive proposition. And without going too far into the long-winded cost vs benefit analysis we've done… it would take a sizeable investment in electric re-wiring to cut over the things we would most want to power up by a generator- namely the pump for our well, our furnace, and our fridge and a few lights. And I can think of about a hundred other ways that I would rather spend a few thousand bucks than on a generator that I hope we won't need!
We just accept that losing power for a week or so is both an adventure and a pain in the neck- but one that we can easily survive as a family. It is really just an inconvenience- and that in itself can be a life lesson.
I firmly believe that one can be prepared for a storm in a few hours, without running out to stock up on supplies at the store, and (dare I say it) without buying one of those 3-day emergency preparedness kits for each family member. At our house, there is always a supply of food of some sort (even if I haven't yet hit the grocery store this week) because of the way I grocery shop by stockpiling when items are on sale. So even if we were to lose power tonight and be without it for a week, we would be fine for a few days with what we have on hand. And if power isn't restored by day 2 or 3, we have always been able to leave our home and drive to another town that has power and purchase whatever we need.
So here are the steps that we take to get ready for a big storm and possible power outage without spending any money!
1. Stock up on firewood and kindling
If we lose power the main way we are going to provide a little indoor heat is by building a fire in our dining room fireplace. So it is important to make sure that we have enough firewood stacked on a side porch and a few totes full of kindling. When there are a couple of feet of snow on the ground, you can't easily carry firewood from the big pile on the side of garage!
2. Fill the bathtubs
Since our water comes from a well and not from a town water source, and it requires electricity to power the well pump, we lose water when we lose power. This is what causes the most discomfort during a power outage because there is no way to take a shower! But we obviously will need to use the toilets, and we will need a way to flush them. So we fill the bathtubs with water and place a bucket in each bathroom. After using the potty, we simply use a bucketful of water, pour it into the toilet and the pressure from the added water causes it all to flush on down. It isn't pretty or fun…. but it works.
3. Fill clean 5 gallon buckets with water
It cracks me up when people talk about running out to the store to stock up on water for a storm. When all you need to do is to clean up some 5-gallon buckets and fill them from the sink before the storm hits! Then you'll have all of the drinking water, cooking water, and even washing-up water your family will need.
4. Gather flashlights and candles
We keep a box of candles in the basement that we will use during a power outage mainly to light hallways and bathrooms during the overnight hours. We are careful to place candles on trays and in places where they won't be bumped by kids running around the house. But we find candlelight lasts all night long nicely, where batteries will often burn out quickly.
We generally keep all of our flashlights in a kitchen drawer, but they still somehow manage to make their ways into different areas of the house when the kids are building forts or maybe reading under the covers at night. So before a storm I ask everyone to help me find all of the flashlights that we own, and then I put one kid in charge of checking each one to make sure the batteries are in working order. All flashlights then get placed in a rubber tote that we can easily take with us. Anytime we head out for dinner during a power outage, the bin goes into the car so everyone can have a flashlight to use when we return home to our dark (and cold!) house.
5. Set up a propane-powered lamp
We originally purchase this Coleman propane-powered lantern for use while camping, but have found it to be great for blackouts. Candles and flashlights really do not give you enough light to cook by, eat dinner by or to play cards by, etc. So we will set this lamp up in either the dining room or the kitchen and the house almost feels normal (well… light-wise anyway!)
6. Charge up "i-devices", laptops, cell phones, and portable DVD players
As soon as we anticipate a possible power outage, I warn the kids to charge everything they own- and we also grab our portable DVD players (normally only used on long car trips) and make sure those are fully charged too. Since it gets dark early in the evening during the winter, having electronic entertainment is a nice distraction for our family! We all gather around our fire and watch a movie! And since our stovetop still works even when we have no electricity (it is a gas stove which we can light manually), we can make popcorn to go along with the movie!
7. Stock up on paper plates, paper napkins, and plastic wear
Normally I am a "green" kind of girl and we do not use paper and plastic products like this in our home. But during a power outage when it is especially challenging to keep a clean kitchen, I use all disposable products where possible. And then heat water on the stove to wash and rinse cooking pots, pans, and utensils.
A week-long power outage really doesn't need to be anything more than an inconvenience. I think it is all about having a good attitude and plenty of patience. And it helps to have a few friends you can rely on to welcome you to their home to take a hot shower every few days!
How does your family prep when a storm is headed your way?