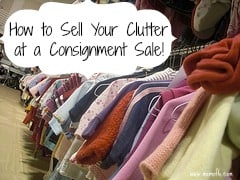 Today's post comes from our new Momof6 contributor, Crystal Sabalaske! Welcome Crystal!
Spring is around the corner. What a great time to start cleaning out those closets and put your kids through what I call the semi-annual torture session! If they're old enough, it's time to make them try on their clothes to see what fits and what doesn't because there's a huge consignment sale coming up soon. (Note: My kids are at an age where bribery works. If they try on clothes and find something that doesn't fit, they get to keep some of the money I make from selling it.)
photo via Flickr/southernbelle886
What Exactly is a "Consignment Sale"?
When I refer to the "huge consignment sale", I am talking about the semi-annual sales that moms flock to, stand in line for, and occasionally push each other over (not a good idea, sometimes it just happens) all in the hopes of grabbing some great bargains on kids items. If you have never been to one of these sales, check out a list of seasonal consignment sales here by state at KidsConsignmentSales.com! As an example, the Just Between Friends sale can be found in multiple cities throughout USA and Canada.
How do these consignment sales work? You price and tag all of your own items. Then you bring them to the sale location a few days before the sale starts and display them in the designated areas. You are responsible for hanging and shelving all of your items. After the sale is over, you have the option to pick up your unsold items or have them donated. A few weeks later, a check is sent to you in the mail for a percentage of your items sold. On average, most sales like this pay you 60%-65% of the total $ sold.
A Few Things You Should Know: 
• The sales typically run Friday-Sunday. If you consign items, you may be able to get early access passes to shop before the sale is open to the public. If you volunteer to work a shift at the sale, you may get a higher percentage of total sales (perhaps 70%) and/or a pass to shop before the consignors, giving you first access to everything.
• Most sales have 50% off on Sunday. You usually have the option to designate whether you want your items to be marked down or remain at your original price.
• Each consignment sale has different rules about what types of items are acceptable and how many of each item you are allowed to drop. Make sure to check all rules before you start pricing and tagging your items.
• If you price your items to sell, depending on how much you have, you can expect to make $100-$1000 per sale. I've heard of people making more. I seem to average about $300-$400, but I usually price my stuff low to get it out of the house!
How to Sell Your Clutter at a Consignment Sale
Consignment sales can be wonderful thing – a great place to find some bargains and an even better place to make some money and free up some storage space. Unfortunately, getting your items ready for the sale can be time consuming. Gather your supplies and follow these tips to get through the preparation phase as quickly as possible.
Needed supplies:
Safety pins
Packing and scotch tape
Hangers
Ziploc bags (best to buy from a dollar store)
Cardstock or index cards, depending on what consignment sale requires
Rubberbands and zip-ties
Permanent marker
Tips to stay organized and maintain your sanity:
• Sort items by type for an easier time pricing, tagging and distributing items at the sale site. Divide items into categories – boy clothes, girl clothes, toys, books, games etc.
• Prepare each item for sale. Clean it; check for spots, defects and working batteries; hang it up or put it in a Ziploc bag and tape shut.
• Handwrite tags or input information into an online system. Check before printing for all the information needed on the tag – description, price, size, consignor number, discount options, donate/pick-up.
• Attach all tags.
• Store in box/container.
• Move on to the next category.
Other helpful tips:
• Stockpile hangers throughout the year. Walmart & Old Navy will give them to you with your purchases if you ask. Ask your dry cleaner for extra wire hangers.
• Use wire hangers for pants/skirts/shorts by attaching the item to the hanger with two large safety pins.
• Keep the plastic zipper bags bed sheets come in, as they are great for snow boots and bulky toys with small parts.
• To transport clothes, rubberband a group of hangers together, poke a hole through the bottom of a trashbag and stick the hangers through the hole.
As a professional organizer and mom of two, I have participated in at least twenty consignment sales. My husband used to offer to pay me NOT to consign items because he is not a fan of the chaos caused by extra piles of stuff scattered around the house. After my first few sales, however, I learned that the process of working on one category at a time means less mess and less stress.
Crystal Sabalaske, owner of Cluttershrink, has appeared as an organizing expert on HGTV. Her organizing tips have also appeared in national publications such as Family Fun, Men's Health and Parents magazines. For more organizing tips, please follow Crystal on Facebook, Pinterest, and Twitter!