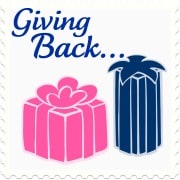 So I have this assignment given to me by the good folks at iVillage… to prepare a quick video on the ways that my family gives back throughout the year. The video can highlight a charity that we give money to, or it can showcase another way that we give back as a family. This sounds like a great thing to do at the holidays, right?
Except that I am unable to come up with one great solid thing that we do… together… as a family.
Oh sure, whenever the school asks for canned goods to be donated for our local food pantry- I am right there loading up bags with goodies from my shelves for the kids to take in. The American Heart Association's annual Jump Rope for Heart event? I sign that pledge form and donate for each and every one of my kids. The mitten tree at school? You can count on me to be on my way to Target. The brownie troop's bottle cap drive? I save every cap I find and faithfully deliver them to my daughter to take in to her troop meeting. My husband's co-workers asking for donations to the causes they care about such as the MS Walk and the Lupus Walk? You know that my check is on its way.
But something that we all do, together? Intentionally? With the idea of me as the Mom sharing the importance of giving back to others as a core value to this family? Well, let's just say that I am not doing so well in that department.
Enter my gal, Oprah to show me the way. I adore her O magazine, and I came across this two-page spread in the December issue called "Spend a Little, Give A Lot". In this article, authors Lauren Murrow and Rachel Mount give us 15 suggestions on how we can make a difference in the world-for less than $15. I plan to show these pages to my children, ask them to each pick a charity that is meaningful to them, and then ask them to take the money out of their allowance jar to make the donation. And I plan to talk about how important it is for us to give to others often, and brainstorm some ways that we can do that as a family at times other than just at the holidays. Here is a link to the article on Oprah's website too "Spend a Little, Give a Lot".
So thanks to my friends at iVillage and to my girl Oprah for providing some inspiration for my family. Now I would love to hear from you…. how does your family give back to others throughout the year?