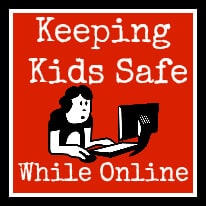 It can be ridiculously challenging for me to keep an eye on 6 different kids' internet activities. Even though we keep our laptops in the kitchen and family room where the kids are not far rom my "watchful eye", the truth is that I am often busy with other things- helping kids with homework, preparing dinner, or somewhere else in the house attending to the millions of other details that demand my attention. So I am not always standing there looking over my kids shoulders while they are using the internet….. and certainly not nearly as often as I would like. Which is why I need to know that my kids are protected from inappropriate content as much as possible by settings within the internet browser they are using. Fortunately, there are two settings that only take a few moments to establish in Google and YouTube, but make a world of difference in terms of the search results displayed. Here's a video that I did, showing you how to use these settings in order to keep your kids safe online:
Google Safe Search
You will need to set this for each browser on the computer (Internet Explorer, Safari, Firefox, Chrome, etc). And for each of these browsers you will need to go into your Preferences, select the Privacy tab, and All Cookies. Next, go to www.google.com/preferences. Select the checkbox to turn Safe Search On. Then lock it (you'll need to log into your Google account to lock Safe Search).
Now you'll see if someone young one in your house googles an inappropriate word (I tried "porn"), Google filters out all of the search results. And you can see in the upper right hand corner of the screen that SafeSearch is turned on. Safe Search will remain on- even if you reboot your computer, sign in to Google on another account, or close and re-open the browser. It will remain on until you log back into Google and turn the feature Off.
You Tube Safety Feature
Go to YouTube and log in (you can do this using your Google id and password). Scroll to the bottom of the screen and you'll see a small box for "Safety". Click to turn it on, and select the check box to Lock it. Again as with Google, the safety feature will be locked on for that browser, regardless of reboots, or whom is logged into YouTube.
*Want proof that the safety function works? Before turning it on, search for "doggy" videos on YouTube- something that I know my daughters could easily do. You'll see cute videos on puppies, but you'll also see videos related to… umm….. "doggy style". Screeeeccchhh….. NOT what we want our kids to see. Turn the safety function on- and poof- those videos are GONE!
Does This Capture All Inappropriate Content?
Now to be clear, this is not a fool-proof solution. Search results and videos will pop-up on occasion that are definitely NOT kid-appropriate, even with these options turned on and in place. There is just no way to ever be 100% sure that you've protected your kids from poor language, violence, or even pornography- so there is no substitute for adult supervision. But if your life is as busy as mine- these options are there to help filter results when you aren't sitting next to your tween or teen.
Do you have any other tips for keeping your kids safe while online? Please leave a comment below and share them! 
And if you have younger kids at home, please check out this post that I wrote on how to keep younger kids safe while online! And this post on How to Keeps Kids Safe When Using Mobile Devices!
And to stay up to date on the latest tips and ideas from Momof6, please Like the Momof6 Facebook page!