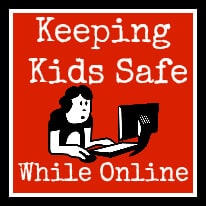 I was selected for this opportunity and compensated by Cocoon Kids. The content and opinions expressed here are all my own.
So this week I realized just how much access to the internet and social media can impact my household- my older boys knew about the horrific Boston Marathon bombings before I had the time to take them aside alone and discuss it with them. Worse- they saw images of the wounded that I would never have allowed them to see, even though those same photos have been shown extensively on news channels. Did they handle it well? Yes they did. But this event really woke me up to how I have not done the job that I should be doing in controlling what they access. So with that in mind, I have spent the last several days researching some of the best tools, tips, and tricks for keeping kids safe online- when accessing the internet from a computer in your home, while conducting searches for homework, and when using iPads and iPhones (that they always seem to be grabbing out of parents hands!). Today I am beginning a three-part series on how to keep kids safe online- and today's post focuses on tips on how to keep younger kids safe while online:
Restrict Access
The most important thing you can do when allowing younger kids to access websites, is to create a path of direct access to that site, and not allow kids to use the search function to find a site. I like to think of it has having the kids operate in a tunnel- one that directly connects your computer to a trusted website that you approve. And the best way to do this is by using the right software. Recently I had the chance to try Cocoon Kids- software designed in partnership with KlaasKids that is meant to keep kids encased in a "safety cocoon". Parents can create a "whitelist" which is an approved list of sites that a child can visit online, and the child will be restricted just to those web addresses. And the cool thing is that the software comes with a list of websites that have already been reviewed and approved by a Mom-blogger advisory panel, so you have a starting point to get your child up and running with trusted websites.
Cocoon Kids allows to create a custom set of approved websites for each one of your children. And as an added bonus- it addresses an issue that most people problem don't even consider when it comes to kids internet safety…. tracking of your child's personal information- their age, their birthdate, their gender, their location- all of these things are tracked when you register your child at a website and are passed along to search engines and advertisers. Cocoon Kids prevents this by hiding your computer's IP address and handling all of the communications between their own servers and the websites you allow your kids to access.
I wanted to show you just how cool Cocoon Kids is- and why it is such a great solution for parents of younger kids who are looking for a highly restrictive mode of internet access… so I created this video which provides all of the details and demonstrates just how easy it is to use:
Oh…. and did I mention that this is FREE? Yep-it is…. so you really should check it out- you have nothing to lose! Get Cocoon Kids!
Keep Computers in a "Public Space"
You have a much better chance of both keeping an eye on your child and deterring them from veering away from your family's rules, if the computers can only be accessed in rooms where you are hanging around! So do not put computers in the kids rooms! Now, in full disclosure- our computers are all laptops, and therefore they can easily be taken upstairs to a bedroom to work on a homework project with my approval- but this applies only to my older children.
Keep Watching Over
And of course nothing beats the occasional reading-over-their-shoulders-while-simultaneously-making-dinner move. Multi-tasking AND checking up on the kids at the same time! It's also a good idea to remind the kids from time to time that as their parent, you always have the right to look at anything they do online… on any computer, game, app, text, device- at any time. I figure if they keep hearing me say this over and over when they are 6, they'll be used to it by the time they are 14 and I am friending them on Facebook, right?
Tomorrow I will share Part 2 of this series: How to Keep Kids Safe Online- Making Google and YouTube Safer for Kids. And next week I will post How to Keep Kids Safe Online- The Mobile Version!
To stay up to date on the latest tips and ideas, please consider signing up to have Momof6 delivered daily to your email inbox!