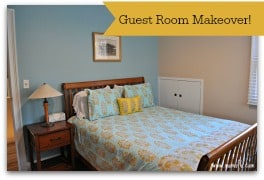 Several weeks back I wrote a post here on Momof6 asking for reader input to help me makeover our guest bedroom. (And then I allowed myself to get distracted and ended up making over Jack & Alex's bedroom first!) The house that we moved into last December had a small 4th bedroom that we planned to use as our guest bedroom for when family comes out to visit us, and we wanted the room to get a whole new look… and we wanted to address a few problems:
The "babyish" stripes on the wall had to go…. along with all of the yellow doors and baseboard heater, striped outlet covers and trim. The closets and light fixtures also needed some work. And we had some repair work to do to the dresser that had been damaged during the move.
And I wanted the room to be nice… and not just be made up of all thrown-togther-hand-me-down bedding and pillows from other rooms in our house. I wanted to show our guests how glad we are that they are staying with us…. and I wanted to make them feel cozy….. so without further ado… here's our guest room makeover!
Selecting the New Bedding
I asked Momof6 readers to help me choose which bedding we should put into this room, knowing that I wanted to select paint colors for the room to match the new bedding. Overwhelming, readers loved choice #4 the best…. but that's not what I went with! (Because selfishly I decided to save that beautiful set for the master bedroom if we decide to makeover our room some day!) Instead, I went with #2 Paros- from Echo Designs.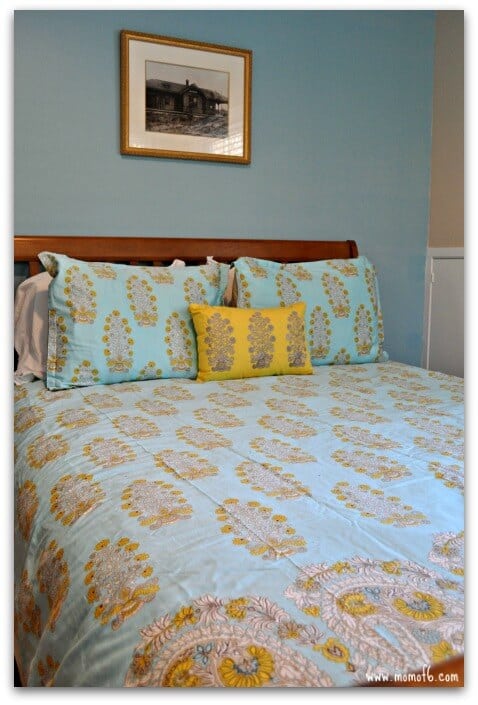 I love the blue and gold colors, I think it looks calming and beautiful in this room!
Selecting Paint and Painting the Room
Next I dug out my handy-dandy Benjamin Moore paint palette and picked two colors that I thought would coordinate with the bedding, a taupe/cream shade for three of the walls, and then I wanted to create a focal wall behind the bed using a dusty blue color. And I wanted to give this blue wall a faux finish to make the painted wall look like linen… this effect is called "Strie" as shown in this video…
But in spite of the several hours of hard work that I put into painting that blue focal wall…. unless you are up close, you don't really get that linen-effect I was going for. In fact, you might even think that perhaps that I was sloppy with the painting and just didn't get good coverage over the entire wall.
So in case you ever visit me and stay in this room…. understand that this is a LINEN EFFECT…. not a MISTAKE! Okay? (Thanks.)
And speaking of painting…. let it be known now that painters throughout the NYC-area can rest easy in the knowledge that I am not out for their jobs (sighs of relief heard throughout the land). Because I am not skilled in the art of painting. I try…. but I manage to splatter paint on the floor, on the trim, on the new wall that I just painted that were "done". And on me. And on the staircase going down to the kitchen where I was trying to wash up.
I am also bad at getting crisp lines.Well- not horrible. But not good either.
Oh- and after 2o minutes… I am bored with the whole idea of painting, and just want to be done. Which doesn't help with the splatter and crisp line issues.
Anyway…. back to the makeover….
Did I mention that I just love the new bedding!
Finishing Touches…
Steve repaired the damaged dresser, and we made sure that all of the drawers are empty so our guests can use the entire dresser to store their belongings. We added lamps to the dresser and nightstand, added a light fixture to the ceiling, and placed a Quirky power strip on the dresser so our guests can re-charge all of their devices.
We also placed a basket of water bottles on the dresser, since the guest room is located on a floor above the kitchen… and it also shares a bathroom with our six kids- we wanted our guests to have access to water on the spot!
And we placed a small stack of big fluffy towels on the dresser for them…. so they know which ones are theirs- and don't think they have to use the kids!
Closets…. A Project for Another Time
The one thing that we just didn't get to were the two closets in the room. We painted the outside of the closet doors and added a new doorknob, and a hanging bar that our guests can use for any of their fancy-duds…. but dealing with painting the inside of the closets was more than we could accomplish right now….
Because other projects are starting to become more time-critical…. namely figuring out the shed-situation so that we can move all of the lawn and gardening equipment out of the garage and actually set up the garage for Steve's car… and all of the kids summer toys, bikes, and gear! Right now we couldn't even get to the lawnmower if we had to……So until we build and set up the shed and then organize the garage- all indoor projects are on hold!
I am really pleased with how lovely this room turned out…. in spite of my lack of painting skillz….
What do you think?