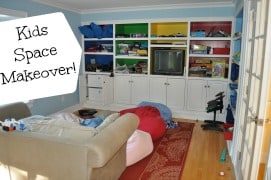 It happens every year. A couple of weeks before the kids are due to head back to school, I get the urge to do a serious decluttering and cleaning out of all of the kids spaces in the house- their rooms, their closets, the coat closet, the playroom, the basement. But especially- their rooms…. All year long when I see things continue to pile up on their desks or on their bookshelves, I remind myself that come August, the kids and I will do our massive decluttering together. And this week we started that process…. which I'll be sharing that with you in an upcoming post.
But the other area of the house that is driving me absolutely bonkers is the room that is dedicated to housing all of the kids toys, craft kits, puzzles, trucks, and thousands of other small items…..the kids "playroom". It is making me crazy- not only because it is overly packed with things that the kids have outgrown and no longer use, but also because the kids have managed to totally trash the furniture that we have in there.
This microfiber sofa, originally purchased about 15 years ago and moved into the kids playroom last year, has lost its battle against the kids. The cushions are torn, the stuffing is coming out, and it is time to retire this sad piece of furniture, and find a replacement.
The walls are painted a bright, happy, sky-blue and the super-deep bookshelves are painted all kinds of primary colors- so the room now looks far to young for my soon-to-be teen and tweens.
The train table is no longer used for trains, and the pictures on the wall are overly cutesie now….
And these two bookshelves that flank the door need to be de-cluttered and put to better use….
And how do we feel about bean bag chairs? I loved them when I bought them for the kids- they certainly flop all over them…. and while I filled them with additional beans two years ago- they need to be plumped up again. Do I refill them and clean the covers? Or just get rid of them?
This whole room needs an update and needs to fit how the kids really use the space, which is now kind of like a kids media room. A place for them to hang out, watch TV, play the Wii, gather for cards or a board game, and it also needs to hold a few toys, trucks, and Legos for my youngest son who has not quite outgrown this stage.
So Momof6 readers- what ideas do you have? I would love to hear what you would do to transform this space! The catch? I don't want to spend more than $400- that includes painting, new furniture, and anything else I need to transform this room. Let's hear your ideas!