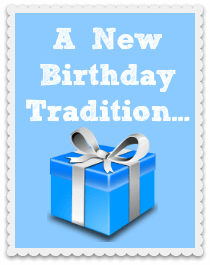 Yesterday was my youngest son's birthday… and on this special day, he turned 8 years old. Aside from the fact that I can hardly believe that we are already here- celebrating his 8th birthday- I worried all week that I wouldn't be able to make this day feel "special enough" for him. Having a birthday sandwiched squarely between Thanksgiving and Christmas already makes it feel like a secondary family celebration. Add to this the fact that we are moving at the end of the month and in preparation for the turmoil to come, I already hosted his birthday party two weeks ago. To top it off- yesterday was only a half-day of school (parent-teacher conferences), and I needed to spend the afternoon packing! Oh- and Steve had both early morning and late-in-the-day meetings at work, so he wouldn't be able to join us for dinner or for cake and presents.
How was I going to make this day special for my sweet boy?
Well, for starters I wanted him to have something new to wear to school for this birthday- and when you are the 4th son in the house- it's important to have some attire that isn't a hand-me-down!
So this Minecraft sweatshirt….
Worn proudly over a Minecraft t-shirt with some snazzy new sweatpants- were perfect!
And this one early-morning gift gave me an idea…. rather than have Alex open up all of his presents after dinner- why not give him one present to open every few hours- so it really felt like his special birthday  all day long?
Sometimes he would walk past the kitchen table, and just see a gift sitting there, and ask me- "Mom, is this for me?" And then we would gather all of the brothers and sisters to watch while he opened it. And other times I would just announce- "It's present time!" and give him a box to open. It was awesome!
And as his brother Spencer pointed out at the end of the day- it was still the same number of gifts- but when they were spread out over the course of the day- it felt like he opened so many more presents. And because he had time to enjoy each one for awhile before opening the next one- it was much more fun for him!
I really do think that we've started a new birthday tradition at the Rowley house!