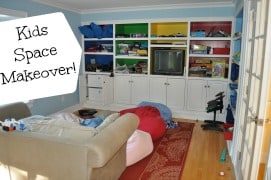 A few weeks ago I asked for your advice on how to makeover this kids space. There were far too many outgrown toys, a torn couch, and sad, droopy bean bag chairs. The room was tired-looking, outgrown, and definitely in need of a makeover! Our first step was to declutter the room- and boy did it feel good to clear out the toys and things that the kids hadn't played with in a long time! They were very involved in the decision-mkaing process, and in the week that has followed not once has someone looked for an item that we have donated. Whew!
Our next step was to remove everything from the room (the couch has found a new home too!), and prep the room for painting. Of course- first we had to choose our colors. I wanted to go with something more neutral after the vivid bright colors that had been on the walls and behind the shelves for the last 10 years. Since we have a beautiful red rug in the room that is still in great condition, I decided to plan our color scheme around that rug- going with greys and pops of red.
First we purchased those small test containers of paint and tried them out. Finally we settled on a light grey for the walls and a deep granite grey in semi-gloss for the backs of the shelving unit. And we purchased some white semi-gloss so that we could spruce up the trim, baseboards, and bookshelves which were pretty scuffed up!
I found a great article in Real Simple magazine over the summer that showed me exactly how to paint a room which gave me confidence that I could handle this. Plus my husband Steve is a pro at this- so I knew he could bail me out if I screwed anything up too badly!
Here's a before and after shot of the playroom bookshelf:
Much more sophisticated- don't you think?
I also changed out all of the cabinet knobs and drawer pulls from the cutesy animal ones we had, to plain brushed nickel egg-shaped knobs. It's amazing how cabinet knobs and a fresh coat of paint can completely transform a room!
Stop by next week for the "big reveal" of our playroom makeover! The furniture was delivered this weekend, my husband has installed a new TV… and all that's left to do is to finish decorating and organizing those shelves!