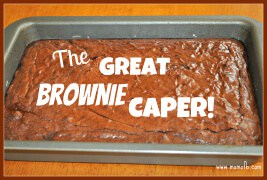 As a busy Mom… I hate ever having to do something twice… when I can barely find the time to do it once! Do you know what I mean?
Last spring I needed to bake a pan of brownies to bring to my daughter's kindergarten hoe down event at school…

(I know! How spectacularly cute are 5 year olds square dancing!)
 So on the morning of the event, I got up extra early and I quickly mixed the brownies together and popped them into the oven before I even made the kids breakfast! They cooled while the I helped the kids to brush their teeth, and after I put the kids on the bus, I cut them into bite-sized pieces, put them on a paper plate, and wrapped them carefully in plastic wrap so they would be ready to take along.
And then I made the mistake of leaving them on the table while I headed upstairs to fold laundry.
And when I headed back downstairs 20 minutes later… this is what I returned to….
20 minutes and one hungry dog later… all of my hard work was reduced to mere crumbs on the floor!
(Now please let me just say that the above photos were a reenactment of the original scene. No doggies were injured for the sake of these photos, nor were any brownies! And I'll add…. during the original brownie caper- my dog did NOT even have the decency to get really ill after inhaling an entire pan of brownies! Egads!)
So I ask you…. what is a Mom to do in this situation? At this point it is 10am…. and I do NOT have time to bake another pan of brownies before I need to be at the school. So, do I stop at the store and purchase store-bought brownies for this event? Or do I walk into the school with my head held high… pretending that I didn't even volunteer to bake anything at all?
Well- what would YOU do?
Yep- I chose the latter…… I just cruised into the school, helped to set up the tables for the snacks and desserts and never even owned-up to the fact that I came empty-handed. Because I know from experience that our school always over-prepares for these events, delivering enough baked goods and snack items to feed an army of kindergartners for a week! My brownies would not be missed…. except by me.
Of course- there is a life-lesson in this story. Sometimes… you don't get a do-over. You just don't. You put your best foot forward and try your hardest, but sometimes things happen. Your dog inhales your hoe-down brownies. That's just how it goes.
And you gotta learn to roll with it.
This post was sponsored by Frigidaire. When you share your own do-over moment at www.facebook.com/Frigidaire, Frigidaire will donate $1 to Save the Children's U.S. programs. Plus, Frigidaire® will help cover the costs for one lucky visitor to win the ultimate do-over.
To stay up to date on the latest tips and ideas, please consider signing up to have Momof6 delivered daily to your email inbox!