I am really looking forward to spending a great summer with my kids, with the focus on slowed-down days , an absence of the daily grind of school and activity schedules, and a chance to do some fun things together as a family. But one of things that I don't want to see happen is for my kids to take their eyes off of academics for two solid months, and then head back to school in the fall having forgotten half of what they learned during this school year. So to stave off this "summer slide" here's my 4 step-plan!
#1- 15-20 minutes of math review daily
In past I purchased Scholastic Summer Bridge activity books each summer that helped my kids to review key concepts that were taught during the school year. And while I did like these workbooks for their thoroughness and portability (they are great to use in the car on the way to/from summer vacations!), I found that once kids hit the upper grades of elementary school, the curriculum covered in the workbooks was too far apart from what was covered in my kids' classrooms. And that some of the worksheets were taking my kids more than 45 minutes to do each day.
What I am really looking for, is more of a focused review on things they've already learned… and the area I want to focus on the most is math skills.
So I have decided to register my kids for the online math learning program called IXL. I registered for the monthly program which runs $9.95/month and you can add additional children on for $2/month each… so for around $40 for the whole summer, I can target my kids math review to areas that were covered in the classroom that they particularly need to work on.
When they sign into the program, kids can find their own name…
And then choose the math activity of the day from a list of topics. In the beginning I will provide each of them with some guidance as to how I would like for them to select what they want to work on.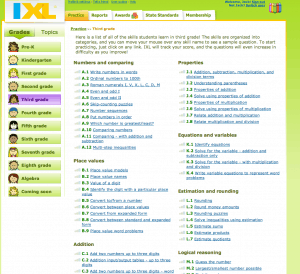 Once they select the topic, they will be shown a list of problems.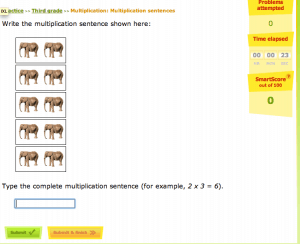 Kids in younger age groups (pre-K thru 1st grade) have the option of pressing a speaker button to have their questions read aloud to them. The system records their answers, provides immediate feedback, and even explains answers when the kids make a wrong selection. And each section is timed by the program as well, as a way to measure each child's mastery of that topic. The IXL system even provides a parent dashboard to help parents keep track of what the kids have completed and where they should focus next. I am very excited to give this a try!
#2- Make family reading time a daily activity
My kids will each be required to read for 20-30 minutes daily. And I strongly encourage them to consider book series because once they are interested in a set of characters, it is fun to continue with those characters onto their next adventure! And to kick off our summer reading….
I signed up for the iVillage Summer Reading Challenge. Each day I will receive emails with tips and inspiration to get my kids excited about reading this summer. If this is something you would be interested in, consider joining us tonight at 9pm EST for our Summer Reading Challenge Twitter Party!
#3- Write once a week on a topic of Mom's choosing!
I want to keep things interesting around here, so I will be coming up with a topic of the week, and adjusting it a bit for the older kids to really challenge them to think and write creatively. Writing and sharing stories is another skill that is easily lost if not practiced during the summer months… along with spelling and good grammar.
And to make it fun, we will be using these cool jeans pocket writing journals that we made last summer with Dad!
#4- Keeping Track of it all…
It's is easy to let those days roll by and forget about staying on top of those good homework intentions. So a clipboard for each child that gives them a place to check off all of their assignments helps to keep the game plan right in the front of their minds. Tying adherence to a reward… such as the ability to earn vacation spending money doesn't hurt either! Next week I will be sharing ideas about summer chore charts and allowances… and when I do, I'll share those clipboards too!
How will you be helping your kids to avoid the "summer slide?" Please share your ideas here!
To stay up to date on the latest tips and ideas, please consider signing up to have Momof6 delivered daily to your email inbox!