Starting this weekend, my family and I will be spending countless hours hanging out at sports fields. And while our main reason for being there is to cheer on our son or daughter who is playing soccer or football as well as for their entire team… the reality is that I will also need to simultaneously keep a gaggle of siblings happy as well. So aside from tossing $20 bills to the ice cream man to keep my kids content, and sending them off to the playground for yet another hour…. I need to have a back-up plan. Preferably one that sits in my car, just waiting for the right moment to be called into action. Perhaps you do too….
And that's why you need to get your car organized for the start of the sports season…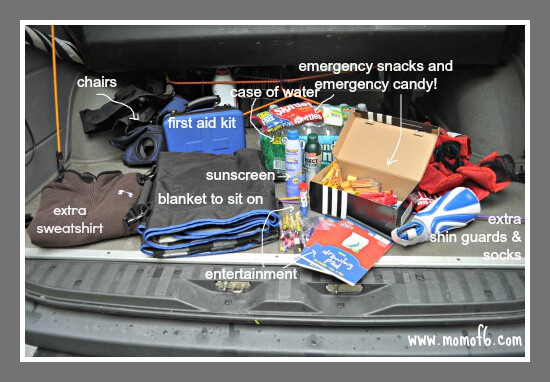 Some things in the back of this car are basic necessities- a chair to sit on, a blanket for the kids to lay on, and sunscreen. And some things are for emergencies- an extra pair of shin guards and soccer socks, an extra sweatshirt for a parent or a child that is chilled, an umbrella or two, some paper and crayons to entertain the kids who are bored, a case of water in the event that your child or a teammate has forgotten theirs at home, and of course a first aid kit to bandage sports injuries and playground boo-boos.
And then there are items in here for EMERGENCIES! Snacks for tired and grumpy kids. Candy when they've eaten all the snacks and you need to keep them happy for just a little while longer. a stashed-away game (ours is "left-right-center") that you can pull out when you've reached the end of your rope, and it feels new and exciting to the kids.
And of course if you are fortunate enough to drive an oversized Mommy bus as I do, you can just tuck everything underneath the back row of seats, and leave plenty of cargo space available for the 47 bags of groceries that I need to pack in here after my weekly run to the store!
So what did I forget? Are there any other items that you like to tuck into the back of your car during fall sports season? Please leave a comment and share!