It's getting time to start making those lists and checking them twice! The holiday season is almost here, and the elves and I have been hard at work trying out some of the hottest gifts this year! After careful consideration and consultation with my 6 minions- here's the Momof6 list of 10 Great Holiday Gifts for Moms!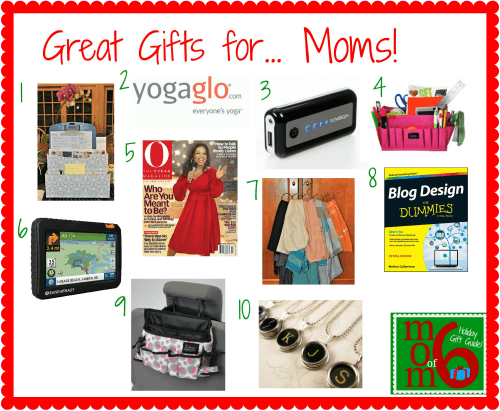 1. Her Own Kitchen Command Center!
I personally can't live without my "kitchen command center"- it's where I store my calendar, to-do list, notes of projects that I am working on, stationery to send in notes to school, pencils, pens, and everything else I need to stay on top of my day. I like to have mine in my kitchen- and when I store it all in this "Pretty Paper" container from Clever Container- it looks as beautiful as it is functional!
2. At-Home Yoga Classes
If Mom would love to take a yoga class, but can never find the time to actually drive to a studio and fit one into her schedule, YogaGlo is a perfect option! She can choose from hundreds of online classes that can be instantly streamed to her iPad or TV- in all styles of yoga- hatha, ashtanga, vinyasa, even mediation classes. I absolutely love my YogaGlo membership- at only $18/month it is a great value!
3. Older Smart Phone Not Holding a Charge?
If Mom has a less-than-new phone, this awesome PowerGen Battery Pack
can keep her juiced and going strong even when her battery is ready to conk out. This portable charger contains enough power to re-charge my phone twice (from a totally dead state) before it needs re-charging itself. And it comes with multiple connectors so it works for nearly any possible mobile device!
4. Office On The Go
If Mom is chief-bill-payer around the house, it is nice to have an organized place to keep everything she needs to get the job done. This "Stuff it" organizer from Clever Container is perfect.
5. The Best Magazine EVER!
I personally read my copy of Oprah Magazine
cover to cover every single month. At only $10/year (when set to auto-renew), it makes a great gift for every woman in your life!
6. For the Road Tripping Mama!
If Mom loves to hit the road as much as I do, she needa a GPS system that she can rely on…. especially when her trip takes her off-the-beaten path and there is no cell/data service to update the GPS app on her phone (hello- the entire state of Wyoming!). This Rand McNally GPS
is fantastic- it has a huge 7-inch screen that makes following the route easy-peasy, and it comes with tons of point of interest info to help you plan some side-trips along the way! Seriously- haven't we all used Rand McNally road atlases for forever? So it makes perfect sense to count on them to make a navigation system that is awesome too!
7. Scarf Hanger
If you've given Mom a few scarves over the years, chances are that some of them rarely grace her shoulders…. you know why? Because they've become buried in the pile of scarves that she has- and she forgets that they are there! Give her a way to hang up her scarves in her closet, so that she can easily see the lovely ones she has on hand. I prefer the Chunky Scarf Holder because it doesn't squish-up my bulkier warm-weather fashion accessories!
8. Is Mom Thinking About Starting a Blog?
I am asked all of the time for advice on how to go about starting a blog- and I always direct people over to visit my friend's Melissa Culbertson's site MomComm. Melissa is savvy on all things related to blog design, content creation, and social media promotion, and whether you (or your Mom) are thinking of starting a blog or you've already got a blog that needs a little sprucing-up…. Mel's book Blog Design For Dummies
is a fantastic tool! I am using it right now as I make plans for launching my next site…. (details to come in the Spring!)
9. Keep the Car Neat and Organized
One way to keep the backseat neat and organized is to give the kids someplace to stash all of their gear. I like this Suite Seat because it attaches to the head rest of the seat in front of you, and has tons of compartments for pencils, paper, DS games, etc- and every child can have their own storage area- no fighting over who is taking up the most space!
10. Personalized Necklace
I adore personalized jewelry- and I love these initial pendents made from the keys of vintage typewriters! I actually received a beautiful necklace like this last year- and I am asked all of the time where I got mine! So I was excited to discover AllStrungOutJewelry's Etsy site where she offers these beautiful necklaces for just $24.99!
*product links to PowerGen, Oprah Magazine, Rand McNally GPS, and Blog Design for Dummies are Amazon affiliate links. Thank you to the awesome folks at Clever Containers for providing product samples for testing.
I hope that you have enjoyed this Holiday Gift Guide series! What are YOU hoping to receive this holiday?