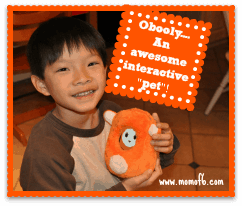 We all know how kids love cute little things that are cuddly and that they can pretend are their very own "pets". We also know how much kids love technology and are constantly begging to use our iPhones or iPads. So I was very excited when I learned of the opportunity to try out this adorable new fuzzy guy… Ubooly!
But not as excited as my kids were to try it!
Ubooly came with instructions on how to download the Ubooly app to your iPhone or iTouch device and a code to enter to activate your new little "buddy". After that you just insert your device into the plush character and zip it up. One of my favorite things about Ubooly is that when I turn my (very expensive) device over to my kids to play with- it is all zipped up in a very plush and cushy protective covering. So that makes me feel a bit better when my kids leave the room giggling with Ubooly in hand.
When you first start playing with Ubooly- your little guy starts asking questions, "Would you like to hear a joke?" or "Would you like to listen to music?" and your kids are answering and treating Ubooly as if he is a real live creature! But my favorite thing I've seen so far is when Ubooly had a case of the hiccups! My kids were hysterical- AND concerned! They kept telling Ubooly to hold his breath!
I am really impressed with the technology…. that the app is programmed for Ubooly to listen to a series of responses and react accordingly. It makes him seem so real- even I wanted to hang around and see what he would say next! I was especially pleased when Ubooly started telling my kids some facts about the moon- how far away it is, etc…. (Yes, Ubooly is educational!) And the other cool thing is that the app updates monthly with new activities (using your devices Wifi connection)- so he evolves and grows along with your kids!
Big kid playing with iPad… younger kid playing with Ubooly!
You Wanna Win One?
Simply leave a comment below for your chance to win an Ubooly of your own (for your kids, I mean!) Here are a few details….
The giveaway prize includes one Ubooly toy & the Ubooly iOS app, which updates every month with new activities, automatically over WiFi.
Entrants must have an iPhone 3GS, 4, 4S, or an iPod touch 4th and 5th gen.
Ubooly is recommended for children between ages 4-9.
Comments must be made by midnight Sunday December 2nd! The winner will be notified on Monday December 3rd (and announced on the Momof6 Facebook Page
Moms are some of the most savvy mobile users and so are their kids. Ubooly is a toy designed for this new high-tech generation. While learning and sharing new content every week, Ubooly is the only toy that grows with your child. It encourages listening skills, and a break from high-energy / high-stimulation play. Through stories & interactive games, Ubooly's curiosity is sure to awaken the creativity within your child's imagination.
Ubooly is the hot toy of the season, it's new to the scene and is on track to sell out this winter! Free updates through Wi-Fi creates ongoing entertainment for kids.
Click here to adopt your own Ubooly and get FREE SHIPPING now!
This is a sponsored post written by me on behalf of Ubooly. The opinions and text are all mine.