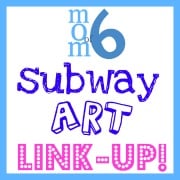 My kids are well aware that October is just around the corner, and they have already been begging me to get out the Halloween decorations, and to start planning our Halloween costumes. My 7-year old has been especially insistent that she is going to go trick-or-treating as a cheerleader this year! So in the spirit of… well… getting into the spirit of the season…. it's time to go searching for the very best Halloween Subway Art printables!
Here's a peek of how we decorated our kitchen last year….
Do you have a Halloween printable to link up?
Here are the Momof6 Subway Art Link-Up Guidelines:
The link-up is for free printable artwork that can be framed and used as holiday décor. (While I also adore printables for banners, cake toppers, party games, and more- that's not the purpose of this link-up!)
While I use the term "subway art", any free printable artwork that fits the theme and can be used for home decor is fine.
The artwork submitted must match the seasonal theme- in this case, Halloween!
The artwork must allow readers to print for free.
You may link up each of your printables separately- or as a collection- the choice is yours!
It is totally cool with me if you are linking up a print that you created last year, if you haven't yet had a chance to create a new one for 2012 yet!
While a back link is not required for this link-up, a mention of Momof6 on your post is greatly appreciated! Including my link-up badge on your post would earn you rock-star status in my book!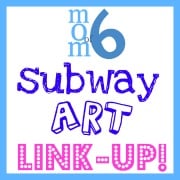 The Halloween Subway Art Printables Linky will close at 5pm on Tuesday (10/2), and on Thursday (10/4) I will post my top 10 favorite picks! Can't wait to see what you Link-Up!