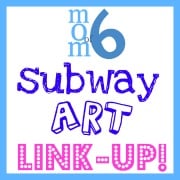 My family LOVES Thanksgiving….. it's is probably our favorite holiday after Christmas. It's really not just a day, but an entire weekend of feasting, watching football, shopping, and just being together. And I love Thanksgiving because reflecting on all of the blessings that our family has is, is just so humbling and joyful. So I can't wait to get started on decorating for Thanksgiving- and leaving this whole hurricane-ruined-Halloween behind! Here's a peek of how we decorated our kitchen last year….
Do you have a Thanksgiving printable to link up?
Here are the Momof6 Subway Art Link-Up Guidelines:
The link-up is for free printable artwork that can be framed and used as holiday décor. (While I also adore printables for banners, cake toppers, party games, and more- that's not the purpose of this link-up!)
While I use the term "subway art", any free printable artwork that fits the theme and can be used for home decor is fine.
The artwork submitted must match the seasonal theme- in this case, Thanksgiving!
The artwork must allow readers to print for free.
You may link up each of your printables separately- or as a collection- the choice is yours!
It is totally cool with me if you are linking up a print that you created last year, if you haven't yet had a chance to create a new one for 2012 yet!
While a back link is not required for this link-up, a mention of Momof6 on your post is greatly appreciated! Including my link-up badge on your post would earn you rock-star status in my book!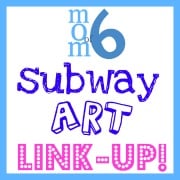 The Thanksgiving Subway Art Printables Linky will close at 5am on Thursday (11/8), and on Friday (11/9) I will post my top 10 favorite picks! Can't wait to see what you Link-Up!