We are doing a lot of camping this summer…. we just wrapped up our 2 week road trip with a 2-night camping adventure, and we are headed out for 2 more overnight camping trips in the next few weeks. So I have been on the lookout for some good camping recipes lately. My favorite camp dinner is BBQ chicken legs with some sort of roasted potatoes, and of course for dessert… s'mores! But here are a few more ideas that I intend to put into use in the next few weeks too!
Campfire Quesadillas
These campfire quesadillas would make a quick and easy camp lunch one day! Thanks Dirty Gourmet!
Campfire Breakfast Potatoes
These remind me of a roasted potato dish that I make at home with Emeril's spice called "Baby Bam". But I want to try this version of Breakfast Potatoes from Dirty Gourmet on our next camping trip!
S'mores Trail Mix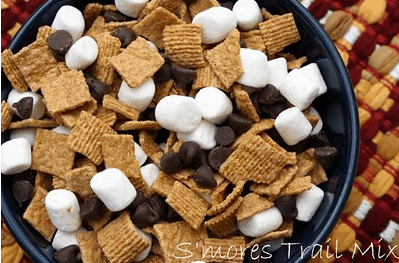 Our camping trips usually involve some sort of hiking activity as well, and my kids would love it if I surprised them and packed this S'mores Trail Mix for our hike- a cute idea from Mommy's Kitchen!
Travel Treat Boxes
And since our camping trips always involve road trips, ones that are often long enough to require some sort of a snack, I love the idea of having the kids pack their own treat boxes like these from PMK Crafts, rather than using ziplock baggies. The snacks inside won't get squished as they do sometimes when the kids throw them in their bins along with all of their books, stuffed animals, and DVDs, plus it is re-useable, which I love!
*Please note that all photos featured here are the sole property of the blogger whose link is provided above, and are meant to show you how cool these ideas are!
And to stay up to date on the latest tips and ideas from Momof6, please Like the Momof6 Facebook page!