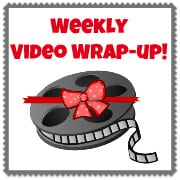 Before I get into this week's video wrap up…. I have two pictures to share with you… 'cuz it's been an eventful week here at the Rowley house. For one, we've experienced our first-ever broken bone among our offspring….
Our sweet Charlotte lost control of her alpine sled while we were on vacation last week… and flipped over. And she broke her collarbone! As I have since learned- you do not cast a broken collarbone, instead you keep her arm in a sling for 6-8 weeks to immobilize it until the bone repairs itself. And I am happy to report that as of today, she is in much less pain and is starting to play outside making houses out of cardboard boxes again with her siblings!
And in other news…..
One of Steve's beehives decided to swarm this week. Yes, I said swarm. See all those little dots in the sky- those are bees. Thousands of them. Fortunately they gathered in a nearby tree (the one right off of our patio door!), and Steve was able to collect them and start a new hive. But for the record- when I agreed that Steve could keep bees as a hobby- I didn't sign up for this…. a tornado of bees in our yard!
Now, back to this week's video….
As back-to-school shopping goes into full swing iVoices Sharon Rowley, Brandi Jeter and Melissa Clouthier give their take on how young girls choose to dress today, and how to talk about positive body image and self-esteem with our daughters.