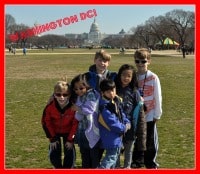 Since Spring Break is only a few weeks away for most families, I thought I would highlight a few fun ideas for Spring Break get-aways that can be planned at the last minute and won't break the bank…. so over the next few weeks I will be showcasing some inspiration for YOUR upcoming Spring Break!
Family Road Trip to Washington DC!
This is something that Steve and I did with the kids over the winter break…. and Washington DC is a fabulous get-away for a few days. The kids will be entertained, they will head home having learned something, and you'll walk away with a new appreciation of the beauty and the majesty that is our Nation's Capital. If you live in the Northeast part of the country, DC is likely within a reasonable driving distance. And there are so many great things to see and do…  here are a few ideas to get you started:
Take a Trolley Tour:
Taking a trolley tour is a great way to get around the city without having to walk everywhere (although rest assured, you will do lots and lots of walking on this trip!). But the best part is getting to listen to your guide tell you about all of the historic sites and monuments as you drive along the trolley route. Old Town Trolley Tours has three different "loops" around the greater DC area which allows you plenty of opportunities to see everything that there is to visit in the city. For a large family this wasn't an inexpensive option- tickets ran $31.50 for adults and $22.50 for kids 4-12. The cool thing about hitting DC during our winter break is that there was a ticket special that allowed us to use the trolley for three days for the price of one. (but that offer expires on 3/15).
See the Monuments:
When your kids imagine visiting Washington DC in their minds, they usually are thinking about the memorials that they have seen in pictures and learned about in school. So it will be a huge thrill for them to see the monuments up close and in person. We started at the Jefferson Memorial, and because it was a nice day, we decided to walk all the way around the Tidal Basin, past the Roosevelt Memorial, then stopping at the Martin Luther King Jr Memorial- which was simply incredible. We then continued on to the Lincoln and Vietnam Memorials. It was a bit of a long walk for the 6-year olds, but by taking several breaks along the way, they enjoyed it without too much complaint. (There is no cost to visit the monuments).
Take your family picture outside of the White House:
After visiting the monuments, we hopped back onto the trolley, and rode it over to a stop near the White House. Because how can you ever visit DC and NOT come home with a picture of your kids in front of the most famous building in the World? It sure would be nice to have this picture without all of the bars in the background! (Cost: nothing!)
Visit Arlington National Cemetery: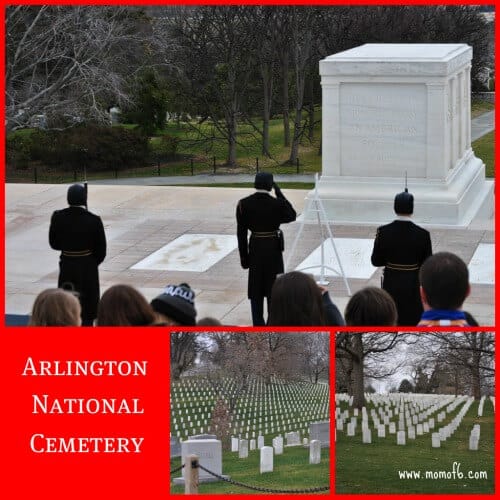 I know that most people head to DC, park their cars for the duration of their visit, and don't get back into them until they are ready to head out of town. But I urge you to consider this idea. Wake up early one morning, eat a quick breakfast, and then hop into your car for the quick trip over to Arlington National Cemetery shortly after it opens at 8am. The crowds will be light, and you can take a brisk walk up to the Tomb of the Unknowns- a memorial to all of the soldiers who lost their lives fighting for our country- but whose remains were unidentifiable.
Think about that for a moment. They gave their lives… and we don't even know who they were. Can't even thank their families for their sacrifice. Let that sink in.
I was concerned that our young children wouldn't understand the heart-wrenching impact of witnessing such sacrifice as is evidenced by all of the stark white grave markers… but I shouldn't have worried. I spent a few moments reading to them some of what I found on the web about Arlington, and what we would have the chance to see at the Tomb of the Unknowns. And they seemed to understand the somberness and the significance of the visit. And when we walked up to the Tomb and watched the changing of the guard first-hand… I think I gave them an important lesson that will stick with them for a very long time.
Add to that experience that we also had the chance to witness a wreath-laying ceremony and hear a tomb guard play Taps at the memorial. Well, you don't just see this…. you feel it. It aches in your heart. Even if you are only 9 years old.
See the Air & Space Museum Annex:
So the National Air and Space Museum located on the Mall is really cool… but really crowded… and it is hard to keep the kids interested long enough to see all of the things that you would like to see. But since you took your car out of valet parking to visit the Arlington National Cemetery, may I suggest that you drive a bit further and also check out the "annex" building to the National Air Space Museum out near Dulles Airport called the Stephen F. Udvar-Hazy Center? It is housed in a Boeing Aviation Hanger and contains the most amazing collection of aircraft that you can imagine- a space shuttle, a Concord jet, the Enola Gay…. just to name a few. The building is huge- but very open so it is easy to see all of the exhibits in less than 2 hours. There are dozens of catwalks throughout the 3-level building to help you get an up-close look at airplanes even as they are suspended from the ceiling. It is simply beyond cool (Cost: FREE!)
Tour the Smithsonians:
A person could visit Washingotn DC and spend several weeks doing nothing but touring the exhibits at the Smithsonian Museums. Now truly, I was packing so much sightseeing into our three-day visit, that I kept our ventures into the museums at a minimum… and by the end of our trip I was actually met with complaints from my kids that they were sad that we hadn't explored any of the art museums! (Yes- that means we have a reason to return soon!)
However, we did take them into the Natural History Museum to see the Hope Diamond ("Is that it?  It's so SMALL Mom!") and the Egyptian Mummies. And we spent a good amount of time in the butterflies and living creatures exhibit (especially when the staff brought out the creepy-crawly Tarantulas for a feeding session!) (Cost: FREE!)
Visit the Post Office Clock Tower for a birds-eye view!
Since the Washington Monument is closed to visitors for now, the best place to visit for a great view of the city is the old US Post Office Building's clock tower. The lower level contains all sorts of fast-food outlets which makes it a perfect quick lunch stop while touring. And the view from the clock tower was fantastic! (Cost: FREE!)
Take a Tour of the Capitol:
You will need to make your reservations online ahead of time to visit the Capitol…. but it is so worth your while. Here again I was concerned about the entertainment value for my 6 year olds… but since the tour is conducted by guides speaking into mics that you then hear through headphones, they were fascinated enough with the technology that they stayed interested during the entire tour. Unfortunately since we visited on a weekend the House and Senate Galleries were closed, so I would advise you to try to tour during the week. And I would suggest that you contact the DC office for your local congressman (or congresswoman, as I did) to help you to arrange a tour if you find that your desired date and time is unavailable online. (Cost: Free!)
We had such a great time during our visit to Washington DC- it really left us wanting more! We found plenty of great family-friendly restaurants within walking distance from our hotel which was only two blocks from the National Mall. And we found a great rate online too (only $99 / night at the L'Enfant Plaza Hotel- but please keep in mind that we traveled in February- during the "off season").
Have you visited the Nation's Capitol with your family? Do you have any tips to share?