My family and I love to eat out at Chili's…. we love the food, we especially love the queso (okay, truthfully I especially love the margaritas- but that's a topic for another post…)… so I have been on the lookout for a recipe for queso that tastes just like the one we enjoy at the restaurant. And ta-da! I have found one, adjusted it a bit… and today I am sharing it with you!
Pinterest: sharonmomof6: Recipes I Gotta Try
I've made this recipe a few times now, and have played around with the quantity of spices until my family agreed this this tastes just like the queso that we know and love at Chili's!
Copycat Chili's Skillet Queso
Recipe Adapted from
Cheerios and Lattes
 Ingredients:
16-ounce box Velveeta Cheese
1/2 cup of milk
1 teaspoon paprika
1/4 teaspoon ground cayenne pepper
15-ounce can Hormel Chili (No Beans)
2 teaspoons chili powder
1 tablespoon lime juice
1/4 teaspoon ground cumin
Directions:
1. Cut the Velveeta into cubes and place into a saucepan.
2. Add the remaining ingredients and stir over medium heat.
3. Stir constantly until cheese melts.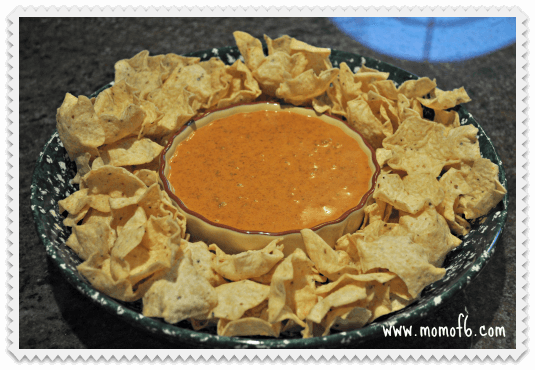 Enjoy with tortilla chips!